Posted on
Escarcega Repeats As State Wrestling Champion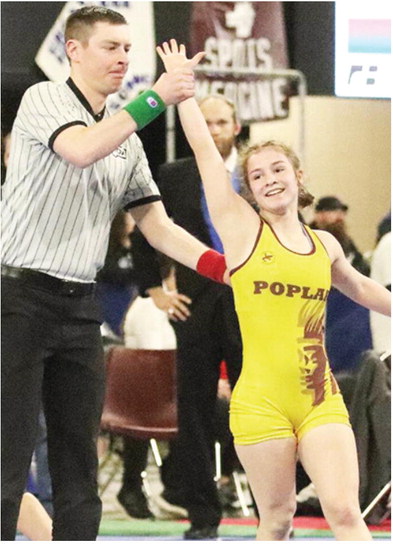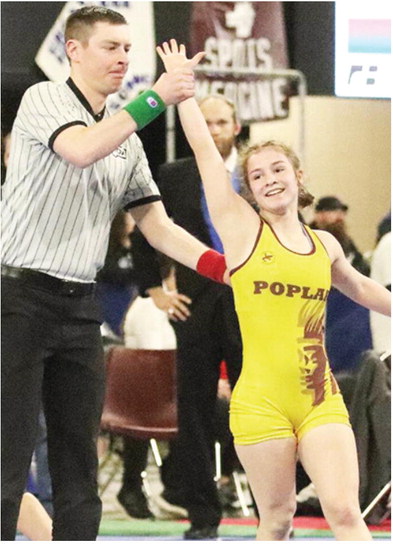 Poplar's Angelina Escarcega repeated as a state champion during the girls' wrestling meet held in Billings.
The sophomore pinned Kiera Davis of Corvallis in 4:16 for the title at 100 pounds.
Poplar coach Jason Frederick said he is very proud of Escarcega's championship performance.
"Absolutely, she got it done," Frederick said.
She opened the state meet by pinning Browning's Maeleigh Gardner in 37 seconds. She then pinned Columbia Falls' Jaelynn Nace in 58 seconds. In the semi-final round, Escarcega defeated Simms' Hayley Petersen on a 10-0 major decision.
"All year long, she didn't have any close matches. I think there were only two matches where she didn't win on pins," Frederick said.
She finished the season with a remarkable 39-0 record.
"She's a firecracker. She's ready to explode at anytime," Frederick said. "She's a great leader for the other girls and has a great work ethic."
Plus, the coach says that the sophomore has an additional advantage. "She has a baby brother that she has to fight and wrestle against all the time."
Navarjo Escarcega, a freshman, earned third place at 126 pounds in the boys' Class B/C state meet in Billings on Saturday, Feb. 11. Escarcega, who finished the season with a 34-8 record, opened the state meet by pinning Jefferson's Dayton Brown in 2:48. He then outpointed Three Forks' Mathias Hogue on a 7-6 decision.
In the semi-final round, Escarcega lost a tough 4-1 decision against Superior's Decker Milender. He bounced back with a 6-5 decision victory over Huntley Project's Derek Lachenmeier. In the third-place match, Escarcega pinned Conrad's Logan Van-Dyke in 4:53.
Poplar's Aries White Tail Feather placed sixth in the 285-pound weight class. He opened action by pinning Three Forks' Josiah Gonzalez in 5:28. After being pinned in the quarter-final round, White Tail Feather pinned Shelby's Ryan Simpson in 2:24 and Fort Benton's Damian Ort in 2:53.
White Tail Feather then dropped a 4-3 decision against Anaconda's Aidan Miller and lost on a pin in the fifth-place match.
Poplar's Craig Berg won one match on a decision at 170 pounds during the meet.
In the girls' meet, Blake Follette earned a victory on a fall at 107 pounds.