Posted on
Ceremony Remember Three Former Wolves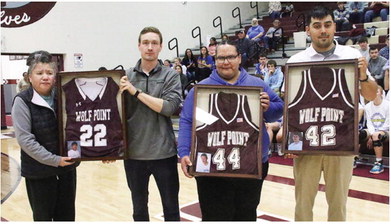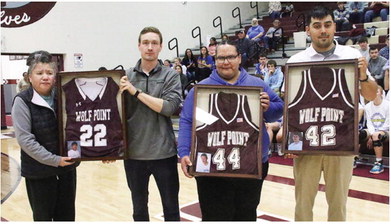 Three former Wolf Point Wolves were remembered prior to the start of basketball action at the high school on Saturday, Feb. 12.
The families of the late Desmond Clark, Kevor Martell and Mikel Weeks received shadow boxes with basketball jerseys in memory of the three individuals who died at a young age.
Wolf Point boys' basketball coach Cole Hanks came up with the idea to remember the players. Hanks started his coaching coach at the C squad level in 2008-2009 when Clark, Martell and Weeks were varsity players.
"It was something that I have wanted to do for a while. I never got the chance until now," Hanks explained.
He said the families were honored about having the ceremony.
"I just wanted the families to know we appreciate their kids and we do miss them here," Hanks said.