Posted on
Beston Places Sixth At State Meet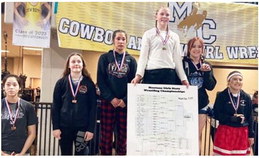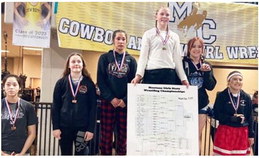 Wolf Point's wrestling team went to the all class state meet this last weekend in Billings.
"We took four kids that battled their butts off all season and in Billings," Wolf Point Coach Scott Vandall said. "We saw some great wrestling there. We had a great Friday for as young as we were. We had two eighth graders, a freshman and junior."
Kasey Reed, a freshman, went 1-2 on the weekend. He went out the last round of the first day. "Kasey had a very solid day and year. I believe he had close to 30 wins on the season," Vandall said. "He lost out to a solid upper class man from Jefferson. He battled hard all year long and had a shoulder issue toward the end of the year. He worked though it. He had to make some adjustments from the beginning of the year. I'm very happy with Kasey's year."
His brother Jesse Reed, who is an eighth grader, also had a solid day. He went 2-1 on the day. "Jesse wrestled hard like his brother. Unfortunately he missed weight by ounces Friday night," Vandall said. "He had a solid year, also. I believe he two had 30plus wins on the year. He has made lots of improvements on the year. He made a young wrestler mistake, learned from it and we will just keep it with that. We are very happy with his whole season. He came out and made adjustments during the year."
For the girls, eighth grader Jeina Reum also went 2-2 on Friday. "She wrestled well. Jeina is just giving up too much weight. She walks around at about 92 pounds," Vandall said. "She has had to wrestle other girls at 107. So in her own weight class, she gives up eight pounds. When she gets bumped up because there's not enough girls in that class at meets, she has to give up 15 pounds. That's a lot of weight for them smaller kids. She finished with 11 wins. I'm very happy with her season, also."
Junior Joli Beston enjoyed a good weekend. She went 2-3 and placed sixth. "She lost her semi-finals match to a defending state champ. Then she lost her consolation semi-finals match and got out into fifth-sixth. She lost that match in triple overtime," Vandall said. "The second match on Saturday really just broke her heart. She wanted to meet her goal and didn't. It was hard for her to overcome. On the year, she had a great year with 40-plus wins. I'm very happy with her season, also." Vandall said, "All and all, we had a good year. We were very young with three eighth graders, two freshman and three juniors."
The coach thanks parents for their support on the year. "Thanks to the coaching staff for all their work they put in through the year. Big thanks to the Northern Plains Independent for the articles and photos. And most of all thank you to my wife for putting up with me during the season," he said.