Posted on
Red Hawks Hold Off Poplar in Non-Conference Showdown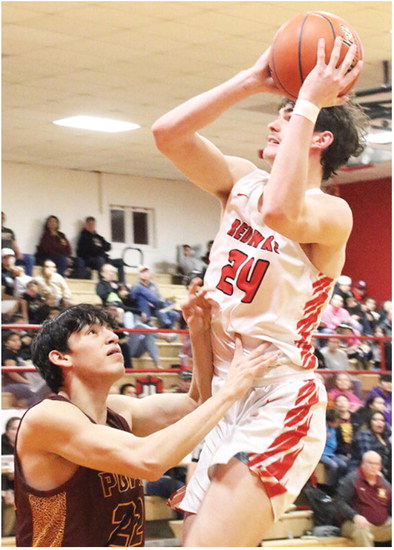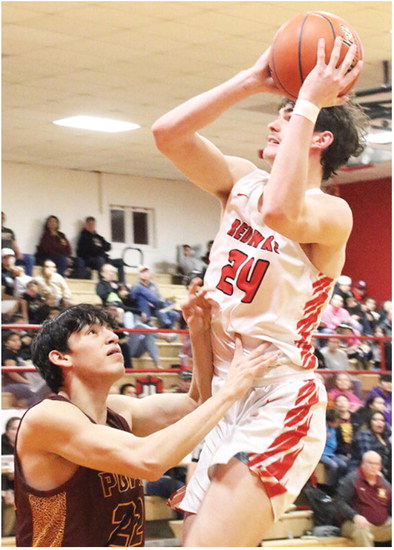 Froid/Lake's boys' basketball squad accounted for one of its best performances of the season to outscore Poplar, 57-55, at home on Friday, Feb. 3.
A basket by Max Engelke and a three-pointer by Mason Dethman at the buzzer ended the half on a high note for the Red Hawks with a 30-19 lead.
Five points by Dethman early in the third quarter helped Froid/Lake increase the advantage to 35-20.
The scoring of Kaniel Ricker kept the Indians without striking range during the third quarter, but a drive by Froid/Lake's Nate Stentoft produced a 45-36 lead to end the period.
A three-pointer by Ricker pulled Poplar to 47-41 with 5:01 left, but the Red Hawks responded with hoops by Caden Kelm and Stentoft. After Poplar's Allen Russell hit a pair of free throws, Landen Kelm drove in for a hoop to put the Red Hawks up 53-42 with under four minutes remaining.
The Indians, however, kept battling back. Three pointers by Geordy Medicine Cloud and William Youngman closed the gap to 53-49. Youngman then scored on a drive for a two-point contest.
Dethman led the Red Hawks with scoring drives at the 1:49 mark and with 44 seconds left for a 57-51 advantage. When the Red Hawks struggled from the foul stripe down the stretch, Poplar came as close as 57-55 on a free throw by Delray Lilley and another three-pointer by Youngman.
A half-court shot attempt by Poplar at the buzzer was unsuccessful.
Dethman finished with 20 points. Engelke also reached double figures with 10 points.
Froid/Lake's other scorers were Stentoft with nine, Patton Bighorn with eight, L. Kelm with four, Joey Boyd with four and C. Kelm with two.
Top scorers for Poplar were Youngman with 17 and Ricker with 10 points.
Rounding out Poplar's scoring were Russell with nine, Walker Burshia with eight, Lilley with five, Kameron Reum with three and Medicine Cloud with three.