Posted on
Wolf Point Fights Off Sidney, 65-59, In Non-Conference Action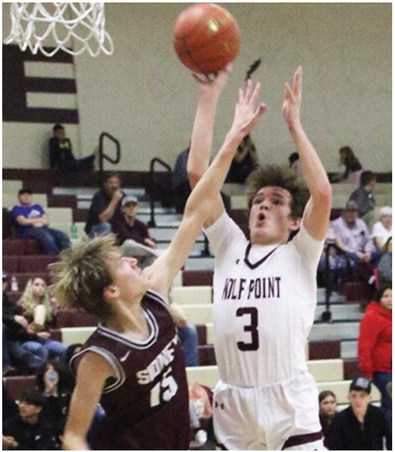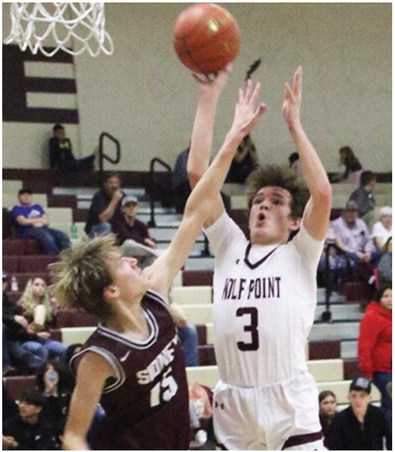 Wolf Point's boys' basketball team stepped up in the fourth quarter to down a taller Sidney squad, 65-59, at home on Thursday, Jan. 26.
The Wolves held a 42-41 lead at the end of the third quarter and fell behind 45-44 when Sidney's Ryder Hansen and Braylon DiFonzo connected on free throws early in the final period.
Wolf Point quickly grabbed the lead back on a pair of free tosses by Gaige Bushman with 6:58 left. After two free throws by Juliun Benson, Bushman then scored on a layup with 6:01 left.
A hoop off a rebound by Benson put the Wolves up 5247, but Sidney's Chace Waters kept the pressure on with a three-point play.
Wolf Point was then able to gain control with 10 of the non-conference game's next 12 points on a basket off a rebound by Kelby Bauer, five points by Kraven Silk and a three-pointer by Jack Kolstad to lead 62-52 with only 2:47 left.
The Eagles' Waters accounted for five straight points, but a drive by Benson with 1:01 put Wolf Point in charge at 64-57.
Benson, who didn't play as many minutes as normal because of an ankle injury, finished with 17 points. Silk scored 11 and Bauer finished with 10 points.
Also scoring were Kolstad with eight, Bushman with six, Peyton Summers with six, Lennoxx Lilley with three, Cade Stafne with three points and Michael Bell with one.
Leading Sidney were Waters with 16, DiFonzo with 12 and Hansen with 10.
The Wolves jumped out to a 9-2 advantage to open the game. The run included a three-pointer by Stafne.
Silk ended the first quarter with a three-pointer to put the Wolves up 23-20.
Sidney took a 33-32 lead late in the second period on a three-pointer by Hansen, but the Wolves accounted for the final four points of the half on a free throw by Benson and a three-pointer from way out off the backboard by Bauer to put the score at 36-33.
Four straight points by Di-Fonzo put the Eagles up 41-37 in the third quarter.
Wolf Point ended the period with five straight points on a free throw by Bell and four points by Benson for a 42-41 lead.