Posted on
FFA Teams Fare Well At Competitions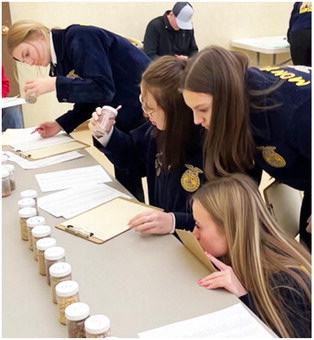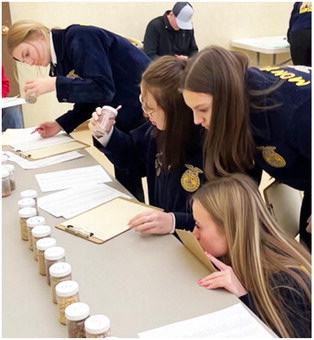 Students from Froid, Culbertson and Bainville earned honors during FFA competitions in Medicine Lake on Monday, Jan. 23.
The Froid FFA team earned second place in agronomy during the event.
Froid's Kaylee Olson captured first place in the individual rankings for agronomy that featured 43 students. Addie Elvsaas took 10th, Makaylee Elvsaas was 25th and Carolyn Christoffersen placed 29th.
In the JV ranks, Cody Olson placed third and Macie Elvsaas took fifth out of 32 students.
During the employment skills' competition, Christoffersen placed second out of 21 participants. Kaylee Olson took fourth and Cian Logan was 12th.
Max Engelke earned 27th and Cody Olson took 28th in the mechanics' competition.
Culbertson's varsity teams earned sixth in agronomy and eighth in mechanics. For the JV level, Culbertson placed first in agronomy and third in mechanics.
Culbertson's varsity members placing in agronomy were Alicyn Ator in 17th, Justice Bengochea in 23rd, Hugh Donaldson in 29th and Kylie Bergum in 35th. Placing in mechanics were Donaldson in 20th, Dawson Bowland in 33rd, Colin Avance in 37th and Jacob Snyder in 39th.
Earning honors for Culbertson's JV team in agronomy were Bridger Salvevold in first, Kaden Featherston in second, Dawson Bergum in fifth and Ian Snyder in seventh. Placing in mechanics were Logan Berwick in first, Bergum in fourth, Snyder in 12th and Featherston in 16th.
Bainville's Roger Butikofer earned top honors in mechanics. Rowan Wilson placed second, Logan Josephson took third and Kaden Goebel placed 10th.
In agronomy, Bainville's Wilson took fourth place. Hallie Iverson took 14th, Elsie Wilson was 18th and Kendra Romo placed 19th.
For Bainville's JV members in agronomy, Azure Mahoney took fourth. Also placing were Rylan Iverson in 12th, Addison Hansen in 14th and Chandi Johnson in 15th. Placing in mechanics were Tally Berwick in second, Samuel Butikofer in fifth, Lila Butikofer in 11th and Charles Butikofer in 15th.