Posted on
Crafts Part Of Instruction For Native American Studies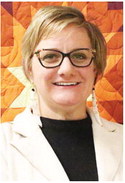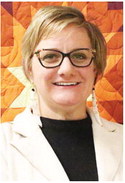 Crafts are being a focus of instruction in Wolf Point High School's Native American studies' classes this quarter.
"The whole purpose of crafts is students studying another trade," teacher Tress Welch explained. "I feel that is important."
One of the items made were Inyan Ha-Sea Shells ear rings. A pair of given to traveling education consultant Tawnya Haughton.
"That's how you're supposed to treat guests," Welch said of the gift.
Sea shells are one of seven sacred stones. Inyan is the original name of the creator. Sea shells represent the protection of the creator, a sacred "wotawe" charm of protection.
Native American studies' students have also been making mini teepees, which are going to be donated to Southside students who don't possess a lot of toys.
Students have also been creating deer hind ear rings.
Welch added that a buffalo hind has been donated to the class. "So we will do an actual winter count," she said.
She feels that teaching about crafts and medicine during the third quarter is beneficial to students.
Welch noted that the Native American caucus has invited her students to attend the state legislative session so they can experience how state government works.
"Maybe it will spark somebody to be a legislator," Welch said.