Posted on
Cowboys Drop Home Game Against First-place Fairview Team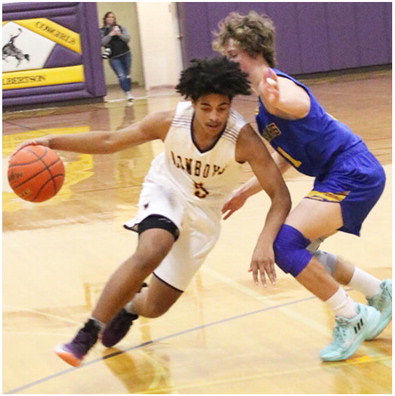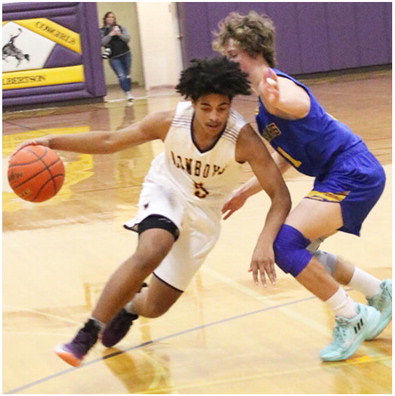 The Culbertson Cowboys played a solid first half against a strong Fairview team on Saturday, Jan. 28, but the Warriors pulled away in the second half for a 65-43 final.
Fairview jumped out to a 7-2 lead, but baskets by Bridger Salvevold and Colin Avance kept the Cowboys close.
Down by a 17-7 margin late in the quarter, the Cowboys ended the period on two baskets by Avance, including one off a pass from Justice Bengochea, to cut the gap to 17-11.
The scoring of Hunter Sharbono and Tyler Loan led Fairview to a 24-13 advantage early in the second period.
A free throw by Salvevold and a baseline shot by Mo Bighorn closed the margin to 24-15. A three-pointer by Peyton Perkins got the Cowboys as close as 26-18.
Fairview's Jeff Tjelde hit a long three-pointer off the backboard at the buzzer to put the Warriors ahead 33-20 at intermission.
The Warriors opened the third quarter with the first seven points including four by Loan and three by Wyatt McPherson.
After a free throw by Bighorn, Fairview tallied 10 of the last 12 points of the quarter for a 50-23 advantage. Sharbono scored eight of the points.
Culbertson's top scorers were Avance with 12 and Bighorn with nine points. Also scoring were Salvevold with seven, Nyreece Halvorson with six, Mark Kirkaldie with four, Perkins with three and Donte Eagleboy with two.
Leading Fairview were Sharbono with 27, Tjelde with 13 and Loan with 11 points.
The Cowboys will face the Richey/Lambert Fusion on Saturday, Feb. 4.