Posted on
Wolves Keep Winning With Home Victory Over Poplar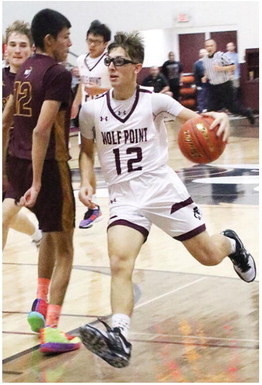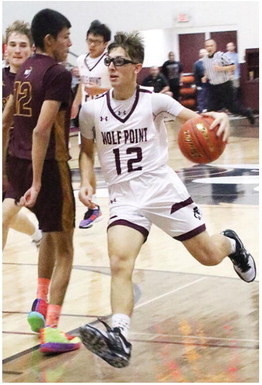 After a nip-and-tuck first half, the Wolf Point Wolves moved ahead in the second half to beat Poplar, 72-49, in boys' basketball play at home on Friday, Jan. 20.
A three-pointer with two seconds by Kelby Bauer put the Wolves up by a slim 31-27 half-time score. The Wolves then opened the third quarter on an impressive note when Juliun Benson scored off a perfect lob pass from Bauer.
After Poplar's Delray Lilley hit a free throw, the Wolves built a 10-point lead on a three-pointer by Benson and a drive by Gaige Bushman. A three-pointer by Bushman and a tip-in by Benson put the margin at 41-30 midway with three minutes left in the period.
The Indians fired back when Geordy Medicine Cloud connected on consecutive three-pointers, but three-pointers by Bauer and Benson led the Wolves to a 51-38 advantage at the end of the third quarter.
After Poplar's Allen Russell opened the fourth quarter with a free throw, the Wolves struck for nine straight points on two hoops by Kraven Silk, a three-pointer by Cade Stafne and a fast-break drive by Benson.
Stafne and Benson each connected on three-point shots for a 66-43 advantage with 3:46 left. Free throws by Bushman and Silk along with a tip-in by Benson put the gap at 72-45 with only 2:43 remaining.
Wolf Point's top scorers were Bushman with 18, Benson with 16 and Bauer with 15.
Also scoring were Silk with eight, Stafne with six, Jack Kolstad with five, Peyton Summers with two and Lennoxx Lilley with two.
Leading Poplar were Kaniel Ricker with 13, Russell with 12 and Medicine Cloud with 11 points.
Also scoring for the Indians were Delray Lilley with seven, William Youngman with four and Walker Burshia with two points.
Wolf Point struck for seven straight points late in the opening quarter and led 14-9 at the end of the period.
After a three-pointer by Kolstad put the Wolves up 19-14 midway into the second period, Poplar responded with the next nine points on a five points by Ricker, a layup by Lilley and a hoop by Russell to earn a 23-19 lead with 2:52 left in the half.