Posted on
New Officers Elected At Title VI Meeting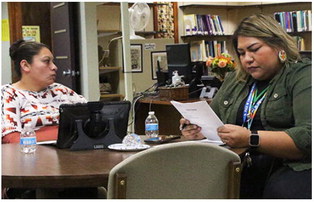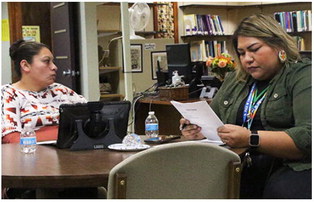 New officers were elected during Wolf Point's Title VI Parent Committee meeting held in the high school/junior high school's library on Wednesday, Jan. 18.
Last year's chair Patricia Payne and Rain Turcotte were each nominated for the chair position. Turcotte won election by a 5-3 vote.
Bryce Kirk was elected vice chair in an unopposed vote and Imogene Lilley ran unopposed for secretary.
Dorian Talks Different won the election to be the teacher representative. Also nominated were Payne and Emily Hamilton.
Lennoxx Lilley was elected student representative in a 5-2 vote against Kaleah White Bear.
Earlier in the meeting, Payne thanked Robert Manning, Carrie Manning and Cheri' Nygard for their years of service to the organization.
"We had some strong parents who have been involved for many years," Payne said.
Discussion took place regarding a change in the budget. Because an Indian Education for All Coordinator wasn't hired, the school district recommended instead putting $68,000 in a pre-school program to increase school readiness. There were applicants for the coordinator position, but there was a need to keep the teachers in the classroom.
Robert Manning made the motion to replace the funds for the Indian Education for All Coordinator and put it to the pre-school for the rest of this school year. Payne seconded the motion. Suggestions were made regarding alternative ways to spend the funds. Ideas included resource for students battling addiction, guest speakers discussing mental health and trauma informed response.
Superintendent Eileen Karge said all the suggestions were good and requested individuals to write down the details and send them to school officials to discuss for future funding options.
The motion by Manning passed unanimously.