Posted on
Marion RunsThrough Sr.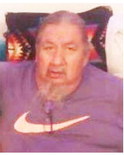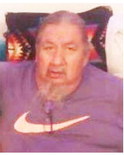 Marion RunsThrough Sr., 65, of Poplar died Jan. 12, 2023 in Poplar.
He was born March 8, 1957, to Ruby and Wallace Runs-Through, Sr. He was born and raised in Frazer and was the third oldest of 11. He attended Frazer School.
He enlisted in the United States Army where he successfully completed basic training at Fort Leonard Wood, Mo., in 1980. He was then deployed to Germany for the next 3½ years. He was honorably discharged, returned home and started working for A& S Industries in Poplar.
During his years at A& S, he met Millie Youpee in 1988. He took and raised as his own Windy and Rocky Clark and, together, they had Millie RunsThrough II and Marion RunsThrough Jr. They made their home in Poplar and he continued to work at A& S until his back injury in 1996.
He was unable to return to work, so he became a stayat- home dad. He taught all four of his children most of his knowledge, from hobbies like fixing things in the garage with him to cooking and hunting, changing parts, oil, tires and patching.
He also loved to be on You-Tube channel messing with his tablet and TV, especially cruising with his wife and grandchildren. He was always telling a story about his days in Frazer or hunting.
He is survived by his wife, Millie; daughters, Windy Howard and Millie RunsThrough II; son, Marion RunsThrough Jr.; eight grandchildren; adopted sons, Raymond Track and Robert Youpee Jr.; and sisters, Marva RunsThrough, Kathy TalksDifferent, Debra Ramsey, Carol RunsThrough, Brenda Hollow Horn, Janet Goodbear and Janeen Firemoon; brother, Wallace Runs-Through Jr.
He was preceded in death by his son, Rocky Clark Jr; brothers, Tom and Arthur RunsThrough; and grandsons, Enright Beston, Bryce Onstad and Ayzail Leider.
Funeral services were held on Thursday, Jan. 19, at the Church of Jesus Christ of Latter-Day Saints in Poplar. Interment was at Riverview Cemetery. Clayton Stevenson Memorial Chapel was entrusted with arrangements.