Posted on
Lustre News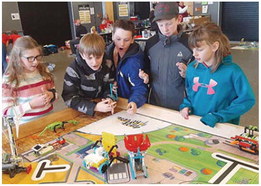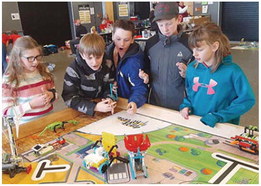 The Lego Lions team at Lustre Grade School has won a berth at the State Lego League Competition in Bozeman on Feb. 4. They placed fifth out of 11 schools at their first competition in a middle school in Billings on Jan. 21, Students participating were Nancy Schiller, Liam Matthyser, Captain Bryson Allen Justin Schiller and Bryanna Allen. They did fundraisers for the trip, but Lustre Grade School covers their league fees.
Jeannie Matthyser, eighth grade teacher, has met with the Lego League on Tuesdays after school since September. Students are in grades 4-7. It is a STEM activity. STEM is an acronym for Science, Technology, Engineering and Math. There are three categories of competition.
The Lustre team won the first-place award for Core Values demonstrated by their teamwork, character and kindness toward each other. Captain Bryson Allen directed his team in their timed competition. All teachers sponsoring their teams were on the sidelines. There were 100-plus students competing in total.
Ron Kaylor and his wife, Kimberly, moved to Lustre Christian High School campus when an opening came for a history teacher around mid-term. He teaches all the social studies classes, government, U.S. history, world history and economics. Ron says he "felt the Lord calling him out of retirement to fill a need" in this small community.
He had taught 25 years, including 10 years in Poplar ('86-'96) and later in Oregon. Kaylor and his family appreciate the beauty of the region and enjoy the trees found. He has worked in the logging industry in western Montana for 20 years before teaching.
Wednesday evening will see the Awana Pine Derby, always a highlight. Thursday is a school work bee at the Lustre Grade School.