Posted on
FourStar Plays Key Role In Helena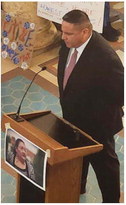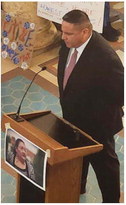 Lance FourStar of the Fort Peck Reservation is a busy person this Montana legislative session in Helena.
FourStar is working with state Democrats in the Montana American Indian Caucus.
Hannah VanHoose, chief of staff for the Montana House Democrats, said Native Americans should be aware of several current pieces of legislation in Helena.
House Bill 18, sponsored by Rep. Tyson Running Wolf, seeks to establish missing a persons' response team training grant program. The bill has already passed the House and is now in the Senate.
House Bill 163, also sponsored by Running Wolf, would revise and extend the Missing Indigenous Persons Task Force. The bill was first heard in a House committee last week.
VanHoose is also hopeful that the Grow Your Own Teacher grant program, that was passed in the last session, receives more financial support. The program involved a connection between high schools and tribal colleges with the goal of keeping educators in their communities.
She noted that they also keep busy tracking potentially harmful legislation.
Early in the session, a draft joint resolution from Sen. Keith Regier, R-Kalispell, aimed to push Congress to investigate "alternatives" to American Indian reservations, arguing they have "failed to positively enhance the lives and well-being of most of the Indians or the other citizens of the State of Montana." Regier has since dropped the legislation.
"I'm sure there will be some other bad legislation this session," VanHoose said.