Posted on
Beston, Reum Place At Tourney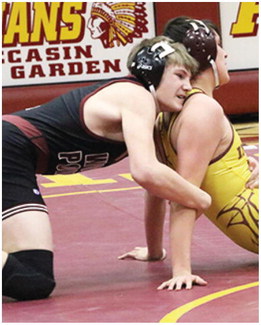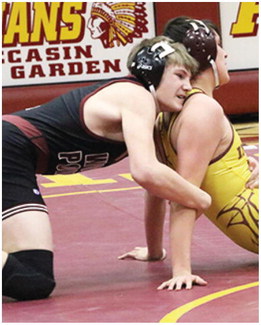 Wolf Point's wrestlers had a busy week with mixers in Poplar and Broadus along with a two-day meet in Moorcroft, Wyo.
Jesse Reed had one match in Poplar and won in overtime. "We wrestled up to get a chance to win a big match," Wolf Point Coach Scott Vandall said. "At the time, the Circle kid was ranked sixth in the state. That was a great match."
Kasey Reed went 1-1, losing to the third ranked kid in the state from Poplar. Sam Boysun went 0-2. Jayden Dominique went 0-2 and Maddox Reum went 0-2. "Matches were good, we made some mistakes but we are young and we expect that," Vandall said.
In Broadus, Jesse Reed didn't wrestle due to match count. Kasey Reed went 2-0. Dominique went 0-2. "Jayden is a first-year eighth grader and he has had the kids on their backs and time runs out or they get out of bounds," Vandall said. "He will get a win at some point this year. He fights hard and works hard in practice."
Reum went 0-2 in Broadus. "Maddox is just not having the year he wanted. Last year's injuries really hurt and he will get it back. It just takes time," Vandall said.
Boysun had a record of 0-2 in Broadus. "We were ahead in the one match by five. We made one of those freshman mistakes and it cost us," Vandall said.
The Wolves went to Moorecroft for a tournament. "We've never been there before, and it was a big meet," Vandall said.
Boysun went 1-2 and got revenge on the night before loss. Kasey Reed went 1-2. Dominique and Reum went 0-2.
The girls finally got to wrested and showed well. Jeina Reum went 1-2. She took fourth place.
"I was proud of her, she only gives up 10-17 pounds a week to these girls and she scraps," Vandall said. "We were joking here that her medal almost weighs the same as her."
Joli Beston went 4-0 and earned a belt buckle for winning the meet. "Joli came out kind of relaxed and wrestled well," Vandall said. "She pretty much dominated her kids. I was very pleased."
This weekend, the Wolves wrap up their season with the boys in Malta and the girls in Cascade and Simms.
"This was a hard weekend. Our thought are with Samantha Reed. We were scared, worried and thinking of her all weekend," Vandall said. "We are sending a speedy recovery to her. Many thank to the community for helping her and her family. It means a lot to all of us."