Posted on
Senior Profile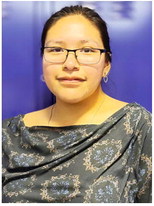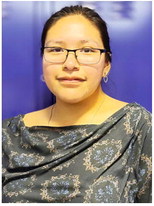 Littlewhiteman Shares Information Through Speech
Being a strong part of Culbertson's speech and drama program has meant a great deal to senior student Marissa Littlewhiteman.
This is her first year with the program and she has made large strides in the informative speech category. Early in the season, she was placing in fifth or seventh place at meets, but lately Littlewhiteman has earned firsts and other high rankings at competition.
"I feel like I've gained confidence and am more sure of myself," she explained.
In the informative speech event, students must provide an in-depth speech that covers less than 10 minutes. Students are judged on their presentation, how understandable the material is and for their visuals.
Littlewhiteman's topic regards survival of first nation people. Her research included books regarding reservation schools along with online materials.
"I haven't seen it handled much on broadcasts or on the news," she explained about the importance of the issue.
She has grown to appreciate the subject matter and her role in spreading the information.
"My speech is special to me and I shouldn't be ashame about it," she noted.
She is looking forward to the divisional meet and then hopefully the state competition.
"I want to do the best that I can and share the information," Littlewhiteman said. Other activities for her are pep band and honored band. She has played the flute for the past five or six years.
"Eventually, it has grown on me," she said of being in the band. "It's amazing when we all come together in the band."
Her favorite class is English literature. Her favorite teachers are Shelly Salvevold and Jeri Gustafson.
After high school, she hopes to attend Montana State University in Bozeman and study child psychology.
Littlewhiteman is happy that she is spending her senior year in Culbertson.
"They encourage you to learn and to join clubs," she said of attending Culbertson. "They really want the best for you."