Posted on
TheYear In Review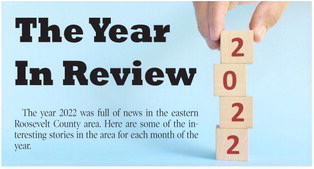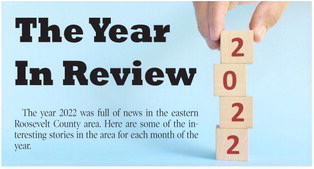 The year 2022 was full of news in the eastern Roosevelt County area. Here are some of the interesting stories in the area for each month of the year.
September
1. The Montana VFW presented special recognition in honor of Bainville native Michael Picard, who gave the ultimate sacrifice for his country during the Vietnam War on Feb. 20, 1968. The Montana VFW has been honoring one individual from each service branch during an annual ceremony in each of the last seven years. Michael was the recipient for the Army.
2. Miles and Rhonda Knudsen apparently flouted a ruling from the Montana Supreme Court granting access to American Legion Park in Culbertson. According to a press release from American Legion Thomas Mann Post No. 81, several vehicles have been parked in the roadway and several gates and been closed, seeming to block access to all but the most determined visitors.
3. Montana livestock-producer groups and two Republican elected officeholders have continued their pressure campaign to halt bison grazing on federal lands, asking the Bureau of Land Management to reconsider its recent approval of grazing leases in north-central Montana. In three separate appeals, the Montana Stockgrowers Association, Gov. Greg Gianforte and Attorney General Austin Knudsen asked the BLM to reverse its July 28 decision to approve American Prairie Reserve's application to lease 63,000 acres of BLM-administered land in Phillips County.
4. Roosevelt County commissioners approved American Rescue Plan funds for the communities of Culbertson and Bainville during their weekly meeting on Sept. 6. Amounts of ARPA funds were $13,581.44 for Culbertson and $130,795 for Bainville. The towns must match the funds on an oneto- one basis. Projects must be on wastewater or water projects.
5. Olympic gold medalist Oglala Lakota Billy Mills visited schools in the area Sept. 22-23. The inspirational speaker talked to students in Culbertson and Brockton. Mills was champion in the 10,000 meters in the 1964 Tokyo Olympics.
October
1. Roosevelt County commissioners voted to increase the priority of the Shotgun Creek Bridge Project, located east of Bainville. During their meeting on Oct. 18, commissioners approved to move the bridge ahead of the slab project for Bridge and Road Safety and Accountability Act funding.
2. Roosevelt County will have a deputy county attorney starting in January. Commissioners have approved the hiring of Thomas Bleicher effective Jan. 3, 2023. Bleicher will be the county's first deputy attorney since Austin Knudsen was elected Montana attorney general in November 2020.
3. Roosevelt County commissioners announced that in advance of the Veterans Day holiday, Roosevelt County will have county buildings illuminated green on Nov. 7-13 as part of Operation Green Light.
4. Roosevelt County experienced a slight decrease in cannabis sales during the month of September compared to August, according to figures released by the Montana Department of Revenue.
September's figures include $180,631 for adult-use sales and $98,219 for medical sales for a total of $278,850 total in the county. During August, Roosevelt County posted $177,820 for adult-use sales, $103,780 for medical and $281,600 for total sales.
5. The Culbertson Seniors group donated $500 toward the purchase of a very large smart board to be used by the mayor and town council.
November
1. Jason Frederick and Robert Toavs were the headline winners in Roosevelt County for Election Day on Nov. 7. Frederick was re-elected for sheriff/coroner with 1,436 votes. Challenger Brent Nygard received 1,073 votes. In the race for county commissioner, district 3 residents went for Toavs with 383 votes. Ken Hentges received 316 votes.
2. Veterans of the Bainville area were honored with a salute from the entire school during a program on Veterans Day on Nov. 11. "Although we recognize them today, they are heroes every day," Bainville superintendent of schools Darin Hannum said during the program.
3. Richard Lamar Rutledge was sentenced to 50 years in Montana State Prison for two counts of incest at the end of a nearly three-year sentencing hearing in Wolf Point on Nov. 17. The sentence by District Judge David Cybulski includes a parole restriction for 25 years and that Rutledge will be registered as a tier 2 sexual offender. He will receive credit for time served. The two sentences are to run concurrently.
4. The Roosevelt County commissioners approved 17 resolutions to declare the existence of several county roads on Nov. 15. The roads declared to be used by the public were 1000, 1001, 1002, 1003, 1004, 1006, 2043, 2044, 2045, 2049, 2054, 2057 and 45 North. All of the roads are north of Bainville.
5. The Culbertson School board trustees ranked top future projects during their monthly meeting held on Nov. 15. Culbertson Superintendent of Schools Larry Crowder explained the goal was to come up with what trustees felt were the top five goals. Because of a tie, six projects were selected. The top projects included new playground equipment, completing a strategic plan, return of a family and consumer science program, reviewing the language arts curriculum, an old armory facelift and being in the top 10 academically for the state.
December
1. Two Roosevelt County residents, Bill Juve and James Walling, expressed their disapproval of county attorney Frank Piocos during the public comment portion at the county commissioners' meeting on Dec. 20. Piocos was elected Roosevelt County attorney in the November general election. Since that time, resident and Northern Plains Independent publisher Darla Downs filed an affidavit of individual challenging an elector which claimed that Piocos falsely provided 202 Broadway Ave., Apartment 300 in Culbertson as his residence. Roosevelt County Clerk and Recorder Cheryl Hansen conducted an investigation. The outcome of the investigation was Piocos had his voter registration canceled due to the false address. In Montana, an elected government official is required to be an elector of the county that he serves. "Considering this behavior, it's inappropriate to expect the hard working taxpayers of Roosevelt County to continue paying Mr. Piocos' salary," Juve said to commissioners last week. "The taxpayers require and expect more from their elected officials."
2. During the Culbertson Town Council's regular meeting Monday, Dec. 13, clerk Tiffani Jasper submitted her resignation. She has accepted a position with the USDA Farm Services Agency office in Culbertson. She will be a program technician.
3. Despite hearing concerns from the public, the Roosevelt County Commissioners approved revising floodplain regulations during its meeting on Nov. 22.
4. More than 30 vendors participated in Culbertson's Winter Showcase at the old armory building Dec. 3. It was held from 9 a.m. to 3 p.m.
5. Roosevelt County Sheriff Jason Frederick, who has served as the county's sheriff since 2014, is excited about the possibility of utilizing different ways to combat crime during his next term. Frederick was re-elected to the position in November's general election. "We're eager to get back to work and put all the politics aside and keep trucking ahead," Frederick said. "We are going to keep on the gas pedal for drug enforcement."