Posted on
Poplar's Atchico Looks Back On A Year In Fashion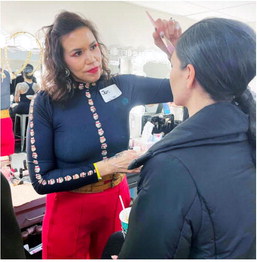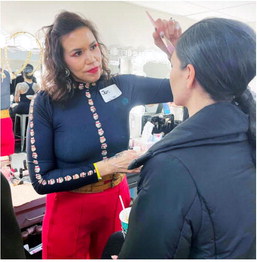 Poplar's Jen Atchico told the Northern Plains Independent that 2022 has been a big year for her and others involved in the world of Native fashion. Atchico founded Indigenous Eyecon in July of 2021, debuting at a show in Las Vegas. Since then, the self-taught makeup artist has participated in a dozen shows, including events in Billings, Butte, Denver, Colo., Las Vegas and Sante Fe, NM., New York, N.Y., Reno, Calif., Seattle, Wash., Vancouver, Canada and Paris, France.
The Paris event was International Indigenous Fashion Week. "I will be traveling with the same group to Milan and London in 2023 and 2024, as well as Paris again," said Atchico. She said she was one of two Indigenous makeup artists included, along with her friend, designer/creator of Choke Cherry Creek Designs Angela Howe-Parrish.
Atchico also singled out New York Fashion week in early September as a highlight. "I got on with the International Indigenous Fashion Week organization based in Regina, Saskatchewan and met many First Nations models and designers for the first time," she said.
Other noteworthy events included Native Fashion in the City with Native Max Magazine in Denver and an appearance at Santa Fe Indian Market in August, where she worked with Sky Eagle Collections creator Dante Biss-Greyson. "I was his only makeup artist as well as a model for his new line Wow Pow that just dropped last month. This was exciting since he is new to the Indigenous Fashion scene and making waves."
Locally, Atchico said she has collaborated with Poplar's Macey Stump, Brockton model Rita Track and organizer Carrie Manning, as well as other local models and aspiring designers.
Atchico said her favorite show of 2022 was Vancouver Indigenous Fashion Week Nov. 29-Dec. 1. "There were 32 designers being showcased over four days," she said. "I was the only Indigenous MUA from the U.S. and I was also a makeup sponsor alongside Cheekbone Beauty and SUVA Beauty, both big names in the makeup industry, so all the models wore my brand on the runway. I have been asked back for this year and will sponsor again."
Looking forward, Atchico says 2023 will be a year for growing her brand. "I will be collaborating with some big names in the Indigenous fashion industry at shows in Las Vegas, Santa Fe, Paris, Vancouver and Seattle to name a few. I plan on sponsoring more shows with my brand and I am also booked to teach a masterclass for an Indigenous model workshop."
A Poplar High School grad (1994), Atchico is the granddaughter of late Fort Peck Tribal Chairman Joseph Red Thunder. She lives in Seattle. For more information about her career, visit indigenouseyecon. com or check out her Facebook page.