Posted on
New Cafe Does Breakfast Eats In Glasgow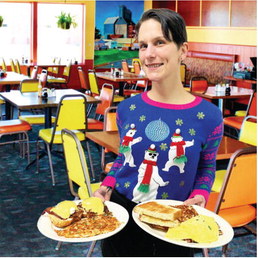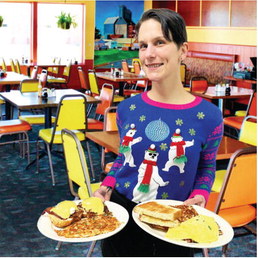 Toodie's Cafe co-owner and manager Johanna Vasseur was busy Christmas Eve serving pancakes and other breakfast items to grateful diners in Glasgow at the Elks Lodge restaurant space formerly occupied by Fiesta Mexicana and more recently Tequila Breeze.
Vasseur and Glasgow's chef Mark Berger opened their cafe in June to a warm reception from the community. The pair bring considerable restaurant experience to the venture.
Vasseur and Berger met in Olympia, Wash., and the couple say it has been a dream of theirs to set up shop in Glasgow. The restaurant is named for their late dog, known affectionately as Tank or "Toodie."
Vasseur was born in the small town of Bath, N.Y. She has cooked, served, managed and helped create menus at multiple establishments in Olympia's vibrant restaurant scene over the past 12 years while pursing an undergraduate degree in philosophy. She is currently pursuing a master's degree in counseling.
Berger, a Glasgow High School graduate, studied fine art at the University of Montana before pursuing a two-decade career at some of Olympia's most popular breakfast and late night spots. The menu at Toodie's is simple, straightforward American diner fare, with daily and sometimes adventurous specials like cranberry cream French toast and chorizo hash. The Benedicts are particularly good, featuring names like the "Fort Peck" and the "Vandalia." Homemade jams are on offer along with locally roasted drip by Bainville's Wild Calf Coffee. Toodie's has also recently added lunch options like an Asian meatball sub, Philly cheesesteak quesadillas and a variety of soups. Specials change daily.
Toodie's Cafe is located inside of the Elks Lodge, 309 Second Ave S., Glasgow. They can be contacted at 406-228-2994 or by e-mail [email protected] They can also be found on Facebook. Hours are 7 a.m.1 p.m. Wednesday through Friday.