Posted on
4-H Students, Supporters Receive Annual Honors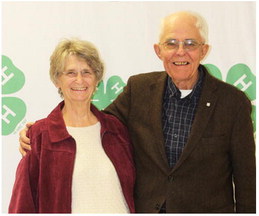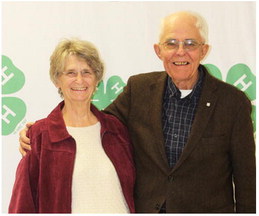 A highlight of the year for the Roosevelt County 4-H program was Achievement Day held at the Community Center in Froid. The Up-NAtom 4-H Club hosted the event and had members involved in babysitting, photography, baking, cooking, sewing, woodworking, beef, sheep, swine, goat, vet science, small engines and Cloverbud projects.
Keira Stentoft of the Up-N-Atom 4-H Club received the Outstanding Secretary award. The Tumbleweed 4-H Club members were involved in beef, swine, horsemanship, leathercraft, cooking, baking, photography and Cloverbud projects. 4-H members from the Frontier 4-H Club were involved in Cloverbuds, veterinarian science and swine projects. The Centennial Clovers 4-H Club were involved in Cloverbuds, cooking, baking, cake decorating, babysitting, sewing, quilting, sport fishing, small engines, beef, poultry, swine, sheep, goat, veterinarian science, horsemanship and rabbit projects.
For the livestock carcass awards, 11 market steers were evaluated. Cody Olson's steer made Steer of Merit. Fourteen market hogs were evaluated and seven met the Symbol of Excellence standards. They were Sophie Portra, Allyssa Johnson, Jaxon Flinn, CeJaye Flinn, Tally Berwick, Jaylynn Bjorge and Kaylee Olson (Froid FFA). Seven market lambs were evaluated. Two 4-H members, Tally Berwick and Kaden Featherston, met certified lamb standards. Two market meat goats were evaluated and Kalia Featherston's made 2022 Carcass of Merit.
Appreciation Awards were presented to organizational leaders and council officers for their support to the 4-H program. Receiving awards were: Shonny Stentoft, Up-N-Atom organizational leader; Josh Stentoft, council secretary; Jeanna Adkins, Tumbleweed organizational leader and council president; Phyllis Sethre, Frontier organizational leader and council vice-president; Tana Berwick and Bridgette Featherston, Centennial Clovers organizational leaders; and Chelsie Flinn, council treasurer.
The 4-H Involvement Award this year was sponsored by CHMS, P.C. Certified Public Accountants of Wolf Point and recognized all Roosevelt County clubs.
Members and leaders were recognized for milestone years of membership and service to 4-H. Fiveyear members were Payton Labatte, Holden Salivar, and Keira Stentoft; the leaders were Dana and Hoss Salivar. The seven-year members were Jodi Albus, Tally Berwick, Kaden Featherston, Kalia Featherston, Rowan Wilson and Lilly Johnson; the leaders were Tana and Dana Berwick, Bridgette and Kody Featherston, Chelsie and Stephen Flinn, Cheryl Graham, and Kayla Johnson. Tanya Wilson received recognition as a leader for 15 years.
Gary and Phyllis Sethre are current volunteers for the Roosevelt County 4-H Program and were recognized for 35 years of volunteer service. Gary has been a market beef leader and has also been involved with the crop science project. Phyllis organized the Frontier club in Wolf Point and still serves as the organizational leader. She has been a leader in all levels of the horsemanship and market sheep projects. Both have served many years as our county's representatives for the 4-H legislative breakfasts.
Chris Finnicum has been a leader in Roosevelt County for 40 years. Finnicum has served as an organizational leader for the Mighty Mounted 4-H Club and Exchange Club. She was also actively involved in the Eager Beavers, Montana Mountaineer and the Missouri River Rats 4-H clubs over the years serving as a project leader in sewing and textiles and leadership. Chris continued to volunteer for 4-H as a resource leader and has utilized her seamstress skills in teaching others to sew.