Posted on
TheYear In Review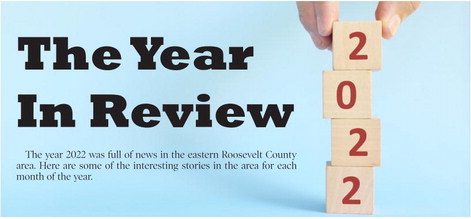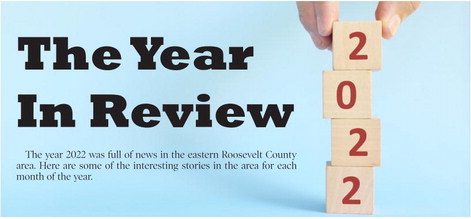 The year 2022 was full of news in the eastern Roosevelt County area. Here are some of the interesting stories in the area for each month of the year.
January
1. Bainville Mayor Toby Romo was sworn in at Bainville Town Hall. He was elected to the position to replace Dennis Portra.
2. Roosevelt County commissioners approved using American Rescue Act Funds for two infrastructure projects in Froid. The projects were the Froid water main curb valve replacement project and the Froid wastewater manhole replacement project.
3. Former Bainville superintendent of schools Renee Rasmussen was appointed to the Montana Board of Public Education by Gov. Greg Gianforte.
4. During the Culbertson Town Council meeting, officials discussed funding options for the municipal pool bathhouse project.
5. Culbertson earned first place in speech sweepstakes during the divisional meet held in Plentywood. Trevor Green took first in informative speaking. Jeri Gustafson was named Eastern Division Coach of the Year.
February 1. Culbertson's Zach Miller earned first place in memorized public address during the Class C state speech and drama meet. Trevor Green placed fourth in informative and Eric Chilson took eighth in informative.
2. Roosevelt County commissioners approved a new resolution regarding cattle guards and the installation of cattle guards. Requirements will include landowners providing a map of affected area to county, an approved encroachment permit and that cattle guards be designed and installed to accommodate H-20 loadings with concrete footings.
3. Culbertson superintendent of schools Larry Crowder recently received a state honor for his longtime contributions to extra-curricular activities. During the Montana High School Association's annual meeting, Crowder was one of just three individuals in the state to be selected for a service citation award.
4. The Culbertson Town Council unanimously voted to proceed with plans to apply for grants and to match funds for the swimming pool bathhouse improvements.
5. The Bainville Town Council approved funds to help send two sheriff officers to training.
March
1. The Roosevelt County commissioners placed local taxation of medical and recreational cannabis on the primary ballot. Voters will be asked to choose separately on the medical and recreational distinctions.
2. The Roosevelt County commissioners agreed to write a letter of support for the Town of Culbertson's upgrade to its swimming pool and bathhouse. The letter of support is for a Montana State Parks Grant that could result in more than $100,000 for the project.
3. Students from Froid, Culbertson, Bainville and Medicine Lake came away with high honors from the Montana BPA State Leadership