Posted on
Senior Profile Donaldson Looks Forward To Career As Butcher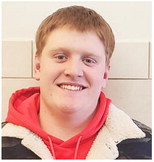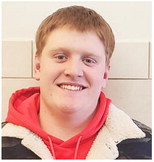 Culbertson High School senior Hugh Donaldson has a good idea of where his career path is heading for him. He wants to go in the much needed field of butchering.
As an eighth-grader, he watched the process of butchering pigs and became interested in butchering for a career. This past summer, Donaldson received the opportunity to do some work at Craig's Meats in Savage. "I asked them if I could check it out," Donaldson said.
His plan is to attend a butcher's school in Miles City.
In preparation for a good career, Donaldson has been active in the FFA and Explore America groups in Culbertson. He is the treasurer of Culbertson's FFA chapter.
His favorite three FFA competitions are sales, livestock and agronomy. He feels FFA has prepared him well for an ag-related career. More experience has come while working on his grandfather's farm.
For the Explore America group, fund-raising projects are taking place in preparation for the group's trip to New York scheduled in April.
Donaldson says he is looking forward to exploring New York, but he definitely doesn't want to live in a big city.
As far as sports, Donaldson is involved in football and track for the Cowboys.
He was voted to be an alternate for the eight-man all-star game and was a second team All-Conference selection on defense this past football season.
He said highlights included advancing to the semi-final round in the playoffs and defeating Fairview to win the conference championship.
Donaldson said the keys for the Cowboys doing so well included working hard and working together.
An individual highlight this season was having three interceptions.
His favorite class is anything agricultural related.
He describes his father, Carl, as being his role model for being a very wise and a hard worker.
"After every game, he lifted me up," Donaldson said. "He would tell me how well I played."
Donaldson said he enjoys Culbertson after transferring from Belgrade during his junior year.