Posted on
New Deputy County Attorney Ready For Work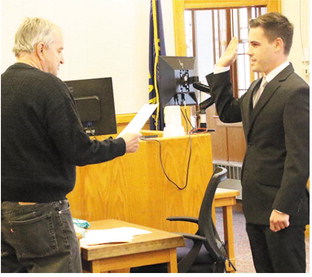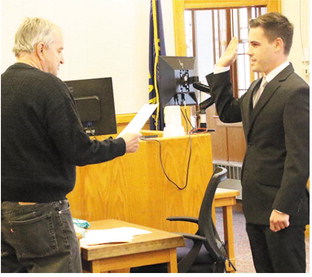 It was a busy day for Thomas Bleicher in Roosevelt County on Wednesday, Dec. 14.
Bleicher was sworn in as the county's new deputy county attorney that morning. He shadowed county attorney Frank Piocos during hearings in district court that afternoon.
Bleicher's first official day on the job is Jan. 3, 2023.
He arrives to Montana after graduating from the University of Wyoming's law school in May, 2022.
"I like small counties and smaller towns," Bleicher explained. "People are a lot more friendly and down to earth."
His experience includes attending the Marine officers candidates school before having to leave because of an injury.
He says criminal law is his preference. "That's why I want to do prosecution," he noted.
He noted that he got used to open fields and cold weather while living in Wyoming.
His hobbies include anything outdoors.
"You name it, I like it. I love the outdoors," Bleicher said.
Deputy Attorney
District Judge David Cybulski swears in Roosevelt County's new deputy attorney Thomas Bleicher during a ceremony on Wednesday, Dec. 14. Bleicher will be the county's first deputy attorney since Austin Knudsen was elected Montana attorney general in November 2020.
(Photo by Bill Vander Weele)