Posted on
Lustre News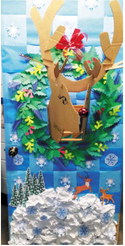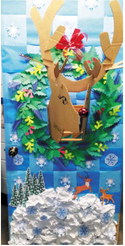 Due to the forecast of severe cold this week, the EMB Christmas program has been moved to Sunday, Dec. 25, at 11 a.m.
The winner of the Lustre Grade School door decoration contest was third and fourth grade teacher Prince Agbisit with a 3-D reindeer with 75 votes. Second place was Kristen Lloyd, special education teacher, using cups to make a snowman.
The third and fourth grade students put on a play last week for the younger students at school. The video of it can be viewed on the Lustre Grade School Facebook page.
Tuesday, the fifth and sixth graders were scheduled to put on a puppet show for their schoolmates.
A Christmas recital by piano students of Melissa and Hannah Marasco was held at their home Saturday afternoon. Hannah Marasco played We Three Kings. Grace Marasco played Hark the Herald Angel's Sing.
Nancy Schiller played Silent Night, O Little Town of Bethlehem and Jingle Bells. Daniel Morasco played Away in a Manger. Sarah Marasco played God Rest Ye Merry Gentlemen. Justin Schiller played We Three Kings on his saxophone. His teacher is Vivian Wall. Dan and Melissa Marasco sang How Many Kings."
The music students turned their attention to drama and performed A Christmas Play, written by their grandmother, Susan Graybill. It was directed by Hannah and Sarah Marasco. Norman Teichroew was in the cast. The audience provided the Christmas carols during costume changes.
Jerry Huebert, 1956 Lustre Christian High School graduate, died Nov. 4 at Heritage Pointe Assisted Living in Omaha, Neb. He is survived by his wife, Dottie; two sons; and five grandchildren. His sister, Louise Huebert Goertzen, 1962 LCHS graduate, died April 8 at her home in Beatrice, Neb. She is survived by her husband, Carl; two sons; and three grandchildren. Louise worked various jobs, but her favorite was at Back to the Bible in Lincoln, Neb. They are the children of Jake and Martha Huebert, who grew up in Lustre.
Lustre was blessed this week with 4-5 inches snow.