Posted on
Lady Wolves Fall Short Against Malta Squad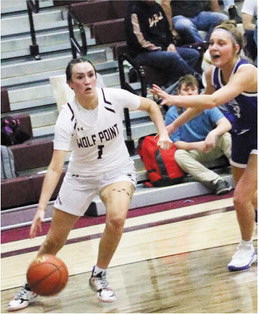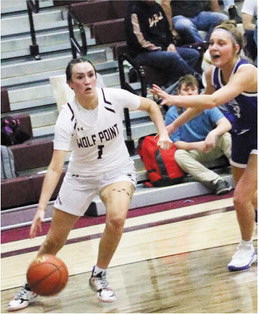 Several members of Wolf Point's girls' basketball team stepped up to contribute, but the Lady Wolves lost to a strong Malta team, 56-43, at home on Saturday, Dec. 17.
Malta took a 16-10 lead in the first quarter and increased the margin to 11 points during the second quarter.
The Wolves fought back on free throws by Sierra Hamilton and Azalei Ackerman. A hoop by Hamilton off a pass from Keeley Blount-Henderson and a pair of free tosses by J'Elle Garfield closed the gap to 28-23 at the half.
The M-Ettes accounted for 13 of 14 points during a run in the third quarter to earn a 4124 lead with 2:50 remaining in the period.
Blount-Henderson, a sophomore, then stepped up with a three-pointer and a turnaround shot for the Wolves. A drive by Katelyn MacDonald got the Wolves closer as they trailed 45-31 at the end of the quarter.
A three-point play by MacDonald resulted in a 48-34 score with 5:46 left. A three-pointer by Blount-Henderson put the score at 48-37.
Malta added eight points down the stretch for a 56-43 final.
Garfield led the Wolves with 15 points. Also scoring were Hamilton with nine, Blount-Henderson with eight, MacDonald with seven and Ackerman with four.
Leading Malta were Madison Williamson with 17 and Allison Kunze with 13 points.