Posted on
November, December Give State Chilly Reception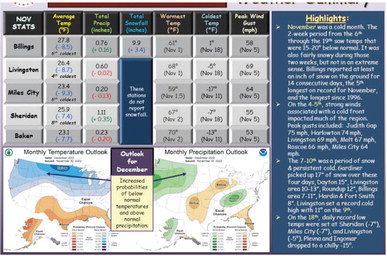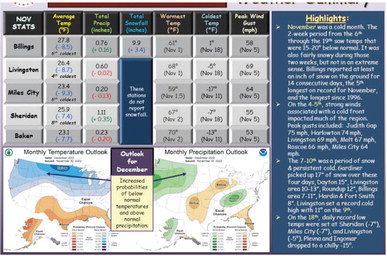 It may not have been the coldest November on record, it just felt like that.
Even though the extended cold spell did not set many daily records, cumulatively, it was notable because the cold just lingered. And lingered.
Just because it wasn't like the November of 1985 is literally cold comfort to most Montanans. November 1985 put Montana into the middle of a deep freeze for the month, where it averaged between 15 and 20 degrees colder than normal.
For most of Montana — and it's hard to say anything definitive about a state that spans more than 625 miles across — the November weather was in the top 10 coldest on record, even though temperatures didn't bottom out like in 1954 when the state set a record for 70 below zero.
According to KTVH, the weather for most of Montana in October averaged 2 to 3 degrees above normal, but the opposite happened during November with temperatures averaging 8 to 12 degrees below normal.
The National Weather Service in Billings notes that for the central part of the state, it was the sixth coldest November on record, with an average daily temperature of 27.8 degrees, nearly 9 degrees below average. Snowfall during that same period was 9.9 inches, 3.4 above normal.
Billings NWS also reported very cold temperatures throughout the region with Miles City reaching -17 degrees on Nov. 11 and Baker hitting -13 on the same day. From Nov. 6 through 19, average daily temperatures were between 15 and 20 degrees lower than normal, marking an unusually cold period for what is technically still autumn weather.
To add insult to the cold weather, the central and western regions of the state saw cold temperatures, snow and extremely strong winds that made travel and road conditions nearly impossible. The Billings NWS office reported wind gusts of 75 mph in Judith Gap, Livingston at 69 mph and Miles City at 64 mph between Nov. 4 and 5.
That was followed by four days of snow around the state in which Gardiner picked up 17 inches during that period, and even lower elevations in Yellowstone County saw nearly a foot of snow.
For those looking for a wintry reprieve, December has been mostly uncooperative. The National Weather Service in Great Falls reported a winter weather alert on Tuesday as temperatures through the central and northern part of the state plunged below zero, while southern Montana saw a dusting of snow, followed by the same chilly temperature drop.
Temperatures in eastern Montana are expected to remain low, sometimes averaging as much as 20 degrees below normal. The National Weather Service also said that heavy snow may be in store for Wednesday and Thursday as "the heaviest snows over the next few days expected through the Rockies of Colorado, northwest Montana and northern Idaho where totals in excess of a foot are possible."
Wednesday will also mark the "Cold Moon," according to the National Weather Service in Glasgow. That will happen at shortly after 9 p.m., and marks the full moon closest to the winter solstice when the moon and stars can often be seen for a long period due to the long night with chilly, clear skies.