Posted on
Bainville Boys Fight Off Culbertson In Conference Battle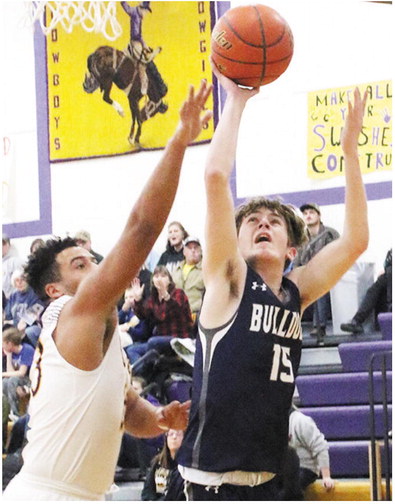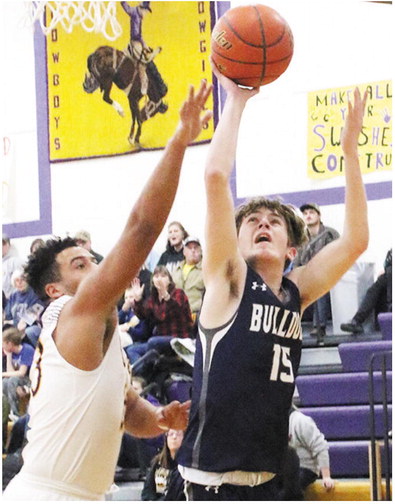 In an early season boys' basketball battle, Bainville put together a solid performance to edge Culbertson, 50-44, on Friday, Dec. 9.
The visiting Bulldogs held a 38-31 lead at the end of three quarters of play, but Culbertson started the fourth period on a high note with six straight points. Colin Avance began the period with a 12-footer. After a steal by Donte Eagle Boy, Avance hit a free throw. Mark Kirkaldie then blocked a shot, and Eagle Boy connected from three-point range for a 38-37 game.
Bainville responded with a drive by Ayden Knudsen at the 6:15 mark. After a drive by Avance with 4:29 left, the Bulldogs gained control with the next three points on a free throw by Charles Butikofer and a pull-up jumper by Knudsen.
Culbertson cut the margin to 43-40 on a free throw by Mo Bighorn, but C. Butikofer then made a big play by taking a charge. Free tosses by Knudsen and Reese Harmon put the Bulldogs up 46-40 heading into the final minute.
Culbertson's Bridger Salvevold accounted for a steal and shot with 44 seconds left, but a drive by C. Butikofer put the margin back to six points with only 24 seconds left.
Knudsen led the Bulldogs with 20 points. Also scoring were C. Butikofer with nine, Sam Butikofer with eight, Alex Strickland with seven and Harmon with six.
Salvevold scored 11 points to lead the Cowboys. Rounding out the scoring were Avance with eight, Bighorn with seven, Kirkaldie with six, Payton Perkins with five, Eagle Boy with five and Shea Scott with two.
A three-pointer by Strickland and a coast-to-coast drive by Knudsen helped Bainville earn a 14-9 lead in the first quarter.
A steal and layup by Eagle Boy closed the margin to 18-17 midway into the second quarter, but Bainville responded with a three-pointer by Knudsen and a basket by S. Butikofer. The Bulldogs held a 25-24 lead at the half.
Bainville ended the third quarter with a free throw by Harmon and a steal and layup by Knudsen to gain a 38-31 advantage.