Posted on
Bainville Girls Stop MonDak To Earn Home Win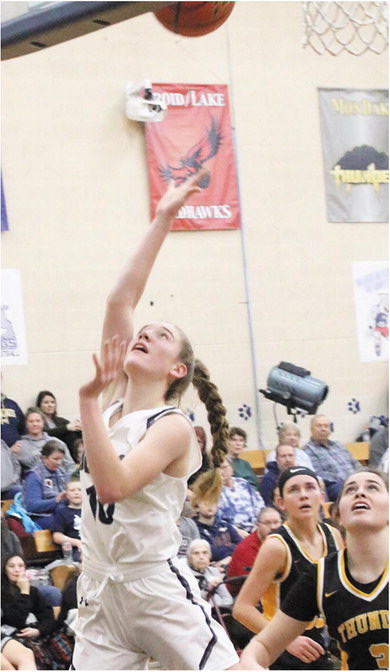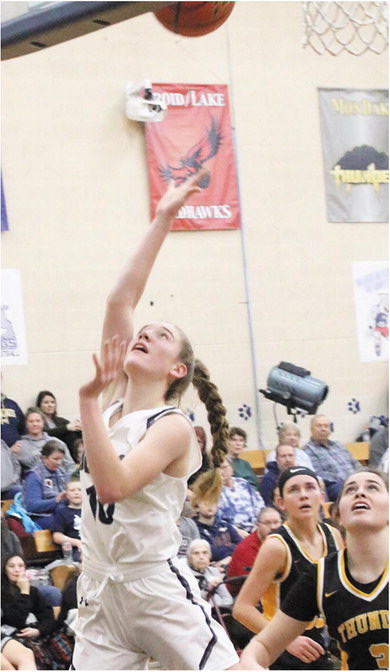 The Bainville Bulldogs capped an impressive opening girls' basketball weekend with a 50-31 home win over MonDak on Saturday, Dec. 3.
Bainville's quick defense held the Thunder to 15 points during the first three quarters of the District 2C contest.
"This was a big win for our program," Bainville Coach Brandy Hansen said, noting that the Bulldogs lost to MonDak by the mercy rule just two seasons ago. "Defensively, I think we got them a little frustrated."
The Bulldogs, who never trailed in the contest, accounted for the game's first 12 points with four points by Elsie Wilson, four points by Miah Pippenger including a basket off a nice pass from Wilson, a hoop by Brecklyn Pippenger and a basket by Kendra Romo off a long pass from Hailey Berwick.
After MonDak scored a pair of free throws by Kierra Brunelle, the Bulldogs ended the quarter on a basket off a rebound by Wilson and a 14-footer by H. Berwick for a 16-2 lead.
A three-pointer by Wilson got the Bulldogs off to a strong start in the second quarter. Five straight points by Wilson and a hoop by T. Berwick put Bainville up 26-7 late in the half. The Bulldogs enjoyed a 26-9 half-time advantage.
The Bulldogs stayed in control with eight of the first 11 points of the third quarter on a baseline shot by H. Berwick, a 12-footer by Addison Hansen, a basket by T. Berwick and a nice move by M. Pippenger for a 34-12 lead.
H. Berwick and Lila Butikofer led the Bulldogs on a 9-0 run late in the quarter en route to a 43-18 advantage.
The scoring of Erike Christian helped MonDak put together a comeback in the fourth quarter to get as close as 45-31.
Bainville's top scorers were Wilson with 16 and H. Berwick with 13 points.
Also scoring were M. Pippenger with six, T. Berwick with four, Kendra Romo with four, Butikofer with three and Hansen with two.
Leading the Thunder were Brunelle with 11, Christian with nine and Emma Smart with eight points.
The Bulldogs will head to Culbertson on Friday, Dec. 9, and host Circle on Saturday, Dec. 10.