Posted on
Red Hawks Aim For Strong Showing in Girls' Basketball Ranks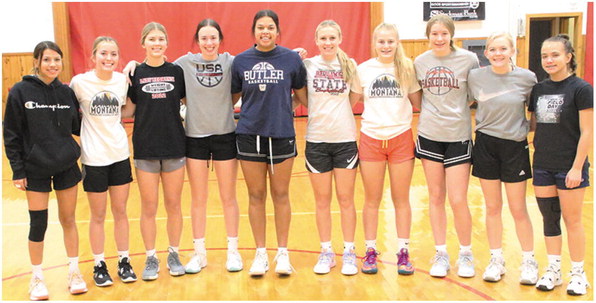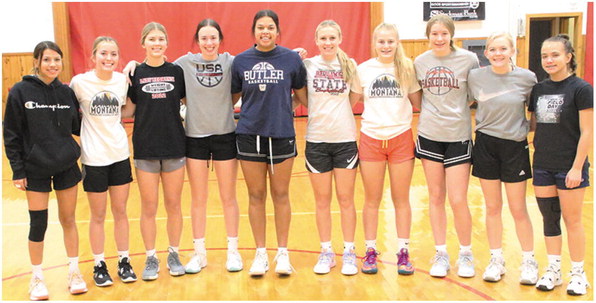 The Froid/Lake Red Hawks are looking forward to another successful girls' basketball season with the return of three starters from last year.
Leading the group of returning athletes are senior Dasani Nesbit, senior Baylee Davidson and sophomore Mara Salvevold.
Nesbit, who is heading to Williston State College to play basketball and volleyball, was an All-Conference basketball selection last year. Davidson was voted to the All-Conference second team.
Other girls who saw a good amount of varsity playing time last season included sophomore Brooklyn Nordwick, junior Jaeleigh Davidson and sophomore Alexa Nelson.
New to the program is coach Josh Stentoft. He is somewhat familiar to Red Hawk fans, however, since he was the boys' basketball coach for 18 years including a secondplace showing at the state tournament last season.
"I'm enjoying it so far," Stentoft said of coaching the girls' team. "They listen a lot better than the boys did."
The 11-player squad features two seniors, one junior, six sophomores and two freshmen. Four eighth-graders will help the team later in the season.
Sophomores are Salvevold, Nordwick, Nelson, Kadence Hernandez, Addison Elvsaas and Kristyaona Mitchell.
Freshmen are Avery Johnson and Lilly Johnson.
Stentoft feels the Red Hawks should be near the top of the District 2C standings.
"It's a great challenge for me. The girls are responding well," he said.
Top squads in the league are expected to include Plentywood, Circle, Culbertson and Bainville.
"We can be somewhere in the top five," Stentoft said.
Froid/Lake Basketball Schedule Dec. 2: at MonDak Dec. 3: Brockton (Froid) Dec. 9-10: at Scobey Invitational Dec. 16: Plentywood (Medicine Lake) Dec. 17: Bainville (Froid) Dec. 20: at Culbertson Jan. 6: at Poplar Jan. 7: at Circle Jan. 13: Savage (Froid) Jan. 14: at Richey/Lambert Jan. 21: at Brockton Jan. 27: Fairview (Medicine Lake) Jan. 28: MonDak (Medicine Lake) Feb. 3: Poplar (Froid) Feb. 4: at Plentywood Feb. 10: Culbertson (Medicine Lake) Feb. 11: at Bainville Feb. 13-18: District (Sidney) March 1-4: Divisional (Wolf Point) March 8-11: State (Billings)