Posted on
Cowgirls Look To Contend In District 2C Race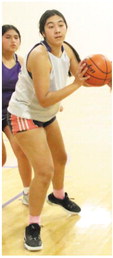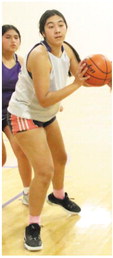 The Culbertson Cowgirls return plenty of experience and are shooting for great results this girls' basketball season.
Five girls who have starting experience are back for the Cowgirls, who placed third at the district tournament last season.
All-Conference performers Makena Hauge and Megan Granbois are looking to put together outstanding senior seasons. Seniors Alicyn Ator and Perla Burciaga along with junior Destiny Thompson, a second team All-Conference pick, also expect to build on the squad's success.
Ayden Ator, a freshman, gained varsity experience as an eighth grader last season. Adding solid depth will be freshmen Leandra Perkins, Mariana Burciaga and Ivy Colvin.
Colby McGinnis is looking forward to his second season as the program's head coach.
"I've adjusted and the girls have kind of learned what to expect from me," McGinnis said. "We're more comfortable with each other."
He expects the Cowgirls will continue to have a solid offensive attack, but he feels the squad should improve on the defensive this year.
"We're tall and super long," McGinnis said. "We want to strive on defense a little more."
He doesn't expect to make any major changes over last season's game plan.
"We want to be playing in March," McGinnis said of the team's goals. "These girls have worked long enough, they deserve it." He feels the top teams in the district could include Plentywood, Froid/ Lake and Circle. "Bainville is super young, but they have grown a lot," McGinnis said. Culbertson Basketball Schedule Dec. 2: at Brockton Dec. 3: at Plentywood Dec. 9: Bainville Dec. 10: Richey/Lambert Dec. 16: at Fairview Dec. 17: Lustre Dec. 20: Froid/Lake Jan. 6: Brockton Jan. 7: Plentywood Jan. 13: at Bainville Jan. 14: at Savage Jan. 20: at MonDak Jan. 21: at Lustre Jan. 27: Circle Jan. 28: Fairview Feb. 4: at Richey/Lambert Feb. 10: at Froid/Lake Feb. 11: Savage Feb. 13-18: District 2C tournament (Sidney) March 1-4: Eastern C divisional (Wolf Point) March 9-11: Class C state (Billings)