Posted on
Georell Red Eagle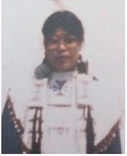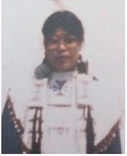 Georell Kay Red Eagle, 59, of Poplar died Sunday, Nov. 13, 2022, at her home.
She was born on Oct. 21, 1963, to Gary and Georgia Red Eagle in Madison, Wis. She carries the Indian name Dakota Win (Sioux Woman).
She was Badlands Jr. Princess in 1974 and Fort Kipp Celebration Princess in 1978 where her father, uncles and brothers were members of the original Fort Peck Sioux Singers. She attended schools in Brockton and Poplar.
Her daughter Dorell Leemae Blackthunder was born when she was 24, followed by another daughter Donelle Sioux Blackthunder in 1991 and, in 1992, son Doyle Travis (Boonz) Blackthunder was born. She also took on the role of a mother figure to many nieces and nephews.
She worked at A& S Industries and had many roles she filled there in her time of employment. She was also employed at Poplar Hospital in housekeeping for six years and later as a live-in healthcare worker. Later in life, she took on the best job ever and that was caring for her grandchildren.
She enjoyed going to bingo, cruising with her forever companion Terry and her grandchildren. She also enjoyed just being around family and friends, reminiscing about old times. She had an amazing memory of friends and families' birthdays.
She is survived by her adopted mother, Janice Hamilton, and adopted father, Rusty Denny, both of Poplar; companion of many years, Terry Eagle Boy of Poplar; brother, Gerred Red Eagle of Poplar; children, Dorell, Donelle and Doyle Blackthunder all of Poplar; adopted daughter, Terrace Little Chief of Canada; numerous grandchildren and great-grandchildren; adopted sisters, Maureen Dionne, Connie Jones, Mary Plante, Chrystal Lambert, Lelanda Roberts, Ophie Crazybull, Dreamis EagleBoy of Poplar, Thomasine Hamilton of Taos, N.M.; and adopted brother, Brian Jones of Poplar.
She was preceded in death by brothers, Gary Red Eagle, Geoffrey Red Eagle, Harold Red Eagle and George Red Eagle; sister, Genine Red Eagle; and grandson, Cameron Black Dog.
Funeral services were held Wednesday, Nov. 23, at 11 a.m. at the Poplar Cultural Center. Interment was at Box Elder Cemetery. Clayton Stevenson Memorial Chapel was entrusted with arrangements.