Posted on
Class C Football Is Special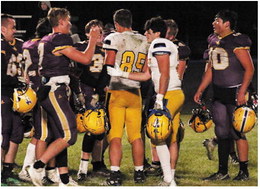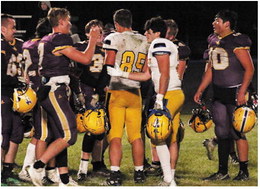 Class C football, especially in northeastern Montana, is certainly what high school sports should be about.
Evidence was the hard-hitting football game between Culbertson and Fairview on Oct. 7. At that point of the season, both teams were undefeated in league play so the battle was to decide the conference championship.
Players on both sides of the field displayed great determination as not only was the league title on the line, but so was bragging rights. There was a fair share of talking going on back and forth between plays, and those words added to the fun of the beautiful fall evening.
But after the hard-fought clash was over - a 40-28 win for Culbertson - the true attitudes of the players could clearly be seen. There was respect between the players and the coaching staffs involved.
After the players conducted their normal "good game" line, some of Culbertson's players circled back to congratulate the top Fairview athletes for a well-played battle. There were smiles all around among these great friendly competitors.
Coaches, meanwhile, were having a fun conversation of their own. Usually when Fairview's Derek Gackle and Culbertson's Mark Pederson are involved, the talk is interesting and entertaining. Plans and hopes for the playoffs were shared, and everybody hoped the best for their league rivals.
A couple weeks later, I was in Medicine Lake for a contest between the Froid/ Lake Red Hawks and Wibaux Longhorns. Although the contest wasn't very close on the scoreboard, it was also a memorable time to be on the sideline.
At one point, prior to a kickoff, some of the Froid/ Lake fans and long-time referee Dean Nelson were exchanging verbal jabs back and forth. There was a good amount of laughter. On the other side of the field, referee Tim Polk was up to his usual routine of giving some fans a hard time with his jokes. I could see plenty of smiles on that side of the field as well.
You don't get that type of enjoyment in Class A football and certainly not at the college and pro levels. It's something that we should surely treasure.
The 2022 football season featured more than its share of highlights for area football fans and players. Some of these moments should be remembered though as much as the wins and losses.