Posted on
Boysun Enjoys Time Competing For Wolves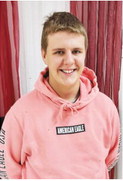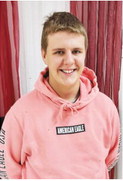 Wolf Point High School senior Trevin Boysun appreciates the time he gets to spend with his fellow students throughout his various activities at the school.
His involvement includes football, boys' basketball and golf.
Boysun's favorite sport is football where he started at center and defensive tackle for the Wolves.
"I like to be physical," Boysun explained his enjoyment of football. "The team is like my brothers."
He said one of his highlights this past season was being on the receiving end of a pass during the game in Baker.
"It was an accident," Boysun smiled. "I got three yards off it."
During basketball season, he serves as Wolf Point's team manager.
"I like being with the team, helping anyway that I can," Boysun said.
Come the spring, he is one of Wolf Point's top golfers. He has golfed for the Wolves throughout his high school career. His goal for the upcoming season is to qualify for the state tournament.
He also keeps busy in the summer as one of the best players for the Wolf Point Yellow Jackets' baseball squad.
"It's up there," Boysun said when asked if baseball was one of his favorite sports. "I like the trips and meeting people from the other teams."
Recently, Boysun tried something new as he acted in the Halloween play as a member of the drama club, which is advised by his older brother, Jacob Boysun.
"It was a blast," Trevin said. He noted that he liked the experience of bonding with others to provide the presentation.
He said being directed by his brother wasn't too difficult. "It was easy because he won't fail me," Trevin joked.
Boysun said his favorite class is weight-lifting and his favorite teacher is John Gardner. "He's a fun teacher to lift with," he noted.
Boysun's role models are his parents, Jaronn and Vicky Boysun. "They teach me life lessons and make sure I'm a good student," he said.
After high school graduation, Trevin hopes to attend a highway patrol academy and to have a law enforcement career.
"It's something that I've always wanted to do," Boysun said. "I want to help the community."