Posted on
Keenan Beauchman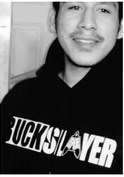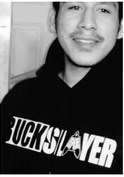 Keenan Patrick Beauchman, 25, of Billings died Oct. 23, 2022, in Billings.
He was born in Glasgow on Aug. 11, 1997, the youngest boy of Kevin Beauchman and Tiffany Chopper. He was the happiest little boy and always had the biggest smile. He was always getting complimented on his big brown eyes.
He was a real character and was the biggest jokester amongst his family. He had a strong love for family.
His hobbies included hunting, doing scratch tickets and being around family. He liked to play Fortnite. His favorite team was the Denver Broncos. He loved to cruise his many different vehicles and bump his systems to oldies but goldies.
He was proud of his Native culture. He sundanced, attended sweats and often attended powwows. He lived with his paternal grandfather, Patrick Beauchman, and his maternal grandmother, Mary Redstone, while growing up.
He loved his elders and adopted many as grandparents, including Gary and Artis Robinson with whom he lived with at the time, and Winifred and Darwin Shaffer, with whom he attended powwows with. At age 19, he moved to Billings and lived with his sister, Katie Beauchman.
He recently graduated from the WATCH Program and received his certificate which he is very proud of. He was employed at Billings Concrete and his work there made him proud.
He is survived by his mother, Tiffany Chopper; brothers, Kristopher, Keegan and Kelly Beauchman; sisters, Kayla and Katie Beauchman, and Kylie Chopper; and grandmothers, Mary, Josephine, Alice Redstone, Karen Yellow Robe, Carol Demarrias, Aletha Chopper, Priscilla Carpenter, Dyan Greywater, Jackie Moran, Dina Vega, Florence McGeshick, Chrisandra Martell, Susan Von Eife, Winter Redstone, Le-Anne Redstone, Lucy Mc-Geshick, Tony Martell, Mina Lingle, and Janna Keeler.
Funeral services were held Saturday, Nov. 5, at the New Wolf Point Community Hall. Interment followed at Greenwood Cemetery. Clayton Stevenson Memorial Chapel of Wolf Point was entrusted with the arrangements.