Posted on
Red Hawks Earn District Title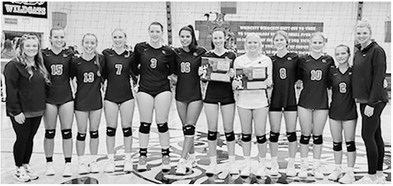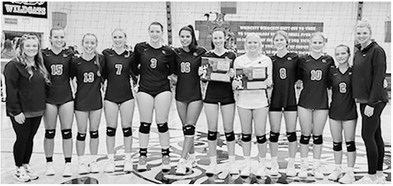 Froid/Lake went through the District 1C volleyball tournament undefeated to come away with the district championship.
The Red Hawks knocked off North Country, 25-21, 25-22, 27-25, in the district championship match held in Plentywood on Saturday, Oct. 29.
Froid/Lake came out hot in the first set as kills by Carolyne Christoffersen and Mara Salvevold led the way to a 14-8 advantage.
After the Mavericks pulled to a tie, Froid/Lake regained the lead on kills by Dasani Nesbit and Baylee Davidson. Another kill by Nesbit put the Red Hawks up 19-17.
A kill by Salvevold, an ace by Aleah Johnson and a kill by Christoffersen put Froid/ Lake ahead by a 24-20 advantage. A kill by Christoffersen put the final spread at 25-21.
In the second set, the Red Hawks took a 9-5 lead on a kill and ace by Nesbit.
Ahead by a 9-6 score, Froid/Lake ran off eight straight points for a 17-6 margin. Christoffersen had three net winners during the streak. Salvevold scored two kills. The Red Hawks also scored on a kill by B. Davidson and an ace by Johnson.
Kills by Jaeleigh Davidson, Nesbit and Johnson put the Red Hawks up 23-16. After a tip by B. Davidson produced a 24-19 lead, the Mavericks were able to fight back to 24-22. Froid/Lake ended the second set on a kill by Christoffersen.
North Country got off to a strong start and led for most of the third set. Down by a 21-18 score, the Red Hawks pulled even on two kills by Christoffersen and one by Salvevold.
A block by Christoffersen and two plays by Nesbit produced a 24-22 advantage, but the Mavericks tied the game at 24-24 and 25-25.
Froid/Lake fought off the Mavericks with two kills by Nesbit for a 27-25 victory.
Nesbit finished with 10 kills, four blocks, an ace and two digs. Christoffersen accounted for 10 kills and 10 blocks.
Salvevold scored 11 kills and had two digs. Johnson had three aces and eight digs.
B. Davidson finished with 31 assists, four digs, an ace and two blocks. J. Davidson had four kills and a dig.
Alexa Nelson accounted for two digs. Brooklynn Nordwick served one ace.
The Red Hawks opened the day by defeating North Country by a 25-23, 25-23, 2518 margin in the semi-final round.
Salvevold finished with 10 kills, a block and a dig. Christoffersen added nine kills, three blocks and a dig.
Nesbit accounted for four kills, a block, two aces and a dig. B. Davidson had 23 assists, a kill, two blocks and two digs.
Johnson finished with three aces and four digs. J. Davidson had two kills and one dig.
The Red Hawks will face Fairview at 2 p.m. on Thursday, Nov. 3, at the Eastern C divisional tournament in Culbertson. Other first-round matches on Thursday will include North Country faces Jordan at 10 a.m., Broadus meeting Savage at noon, and Circle playing Plentywood at 4 p.m. The divisional championship match is scheduled for noon on Saturday, Nov. 5.