Posted on
Alfred Iron Bear Jr.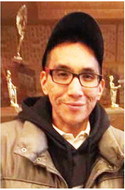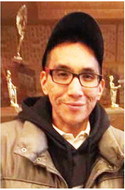 (Tȟáȟča Duzahaŋ), 37, of Poplar died Sunday, Sept. 11, 2022.
He was born Aug. 20, 1985, to Alfred and Marzetta (Two-Bulls) IronBear in Poplar. He was the baby of the family with two older sisters. He attended school in Poplar.
He worked at Buckhorn as a cook and at West Electronics. He also had different jobs here and there throughout his adult life. He was always willing to help out anyone in any way he could.
He was raised traditionally and in the pow-wow circle. He danced old-style grass taught to him by his cousin Troy. He enjoyed competing and singing at many powwows.
He enjoyed hanging out with his family and friends, listening to music and throwing horseshoes. He also liked to play basketball in his healthier days. He was so proud of his children, nephews and nieces with all of their accomplishments.
In December 2007, his daughter, Ashlyn IronBear, was born. In November 2008, his son, Alfred "Alfie" Iron-Bear III, was born. Alfie and his dad were inseparable.
He was preceded in death by his sister, Amber IronBear.
He is survived by his children, Ashlyn and Alfie; sister, Lisa IronBear-Dukes; and brothers, Jay WhiteHead and Charles TwoBulls.
Funeral services were held Friday, Sept. 16, at the Poplar Cultural Center. Burial was at Poplar City Cemetery. Clayton Stevenson Memorial Chapel was entrusted with arrangements.