Posted on
Red Hawks Come Up Short Against Bearcats, 20-14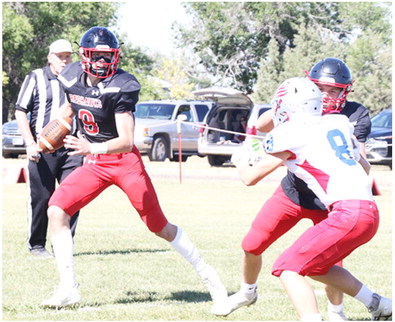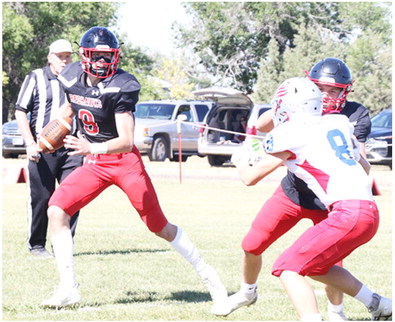 Despite an impressive defensive effort, the Froid/Lake Red Hawks came up short against Stanford/Geyser/ Denton, 20-14, in six-man football action on Saturday, Sept. 10.
"Defensively, we played extremely well," Froid/Lake Coach Michael Reiter said after the home loss.
Putting together strong performances were defensive ends Austen Hobbs and Caden Kelm.
"We have to keep bringing that every week," Reiter said.
Offensively, however, the Red Hawks struggled with execution. Receivers dropped 10 passes in the non-conference contest.
"We can't do that," Reiter said. "We just didn't execute."
The game was deadlocked at 14-14 when Tyce Smith connected with Axel Becker on a fourth-down 29-yard touchdown pass despite double coverage with 5:37 remaining.
The Red Hawks' offense had two more possessions after that but was unable to move the football.
The Bearcats accounted for the game's first two touchdowns to gain a 14-0 advantage.
A 54-yard pass from Becker to Clayton Hernandez opened the scoring with 4:41 left in the first quarter. Smith kicked the conversion for an 8-0 margin.
The score stayed 8-0 until Smith hit Kain Vincent with a 15-yard touchdown pass with 44 seconds remaining. In the half. C. Kelm blocked the kick attempt.
Froid/Lake ended the half on a high note when Mason Dethman connected with Aiden Hernandez for a first down at the 39. A short pass to Hobbs then resulted in a 41-yard touchdown with nine seconds left in the half. Dethman kicked the conversion for a 14-8 game.
The Red Hawks struck again to open the third quarter when Dethman found an open Hernandez in the end zone for a 42-yard touchdown pass and a 14-14 deadlock.
The Froid/Lake defense stood strong on the Bearcats' first possession of the second half as plays by Hobbs and Nate Stentoft forced a quick punt.
Another good defensive stand, led by C. Kelm and Max Engelke, gave the Red Hawks possession on the 31. Nice scramble runs by Dethman moved the ball into Bearcats' territory. Dethman then hit Stentoft for an 11yard gain to the 23.
A pass to Hernandez covered 15 yards for a first down to the eight. The threat, however, ended on a fumble near the end of the third quarter.
The Bearcats then drove inside the Froid/Lake 20. On a third-and-one play, Stentoft forced a fumble and Dethman made the recovery to give the Red Hawks possession early in the fourth quarter.
After stopping the Red Hawks, the Bearcats were able to move ahead on their next possession.
Froid/Lake will play at Roy/Winifred on Saturday, Sept. 17.

HernandezAidan Hernandez catches a touchdown pass.(Photo by Bill Vander Weele)