Posted on
Wolves Lost First Game In Baker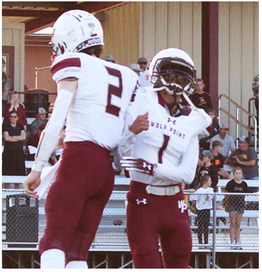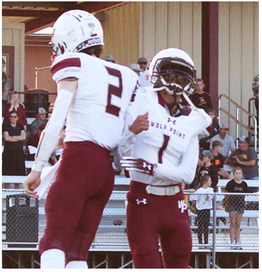 The Wolf Point Wolves opened their football season with a 47-27 loss in Baker on Friday, Sept. 2.
Baker accounted for the game's first 20 points before Wolf Point's Juliun Benson returned a kickoff 83 yards for a touchdown in the second quarter.
Baker ended the half with a 58-yard drive to increase its lead to 26-7.
The Spartans then opened the second half with a scoring drive.
After another good kickoff return by Benson, the Wolves went on to score on a fourthdown pass from Benson to Gaige Bushman.
Benson finished the game with 104 passing yards and three touchdowns. Bushman caught six passes for 101 yards and three touchdowns.
Maddox Reum led the Wolves with 11 rushes for 72 yards. Preston Swenson kicked three conversions.
Defensively, Charles Page finished with 22 tackles. Other leaders were Reum with 11, Lennoxx Lilley with 10, Mike Bell with 10, Kraven Silk with nine and Swenson with nine tackles. Lilley registered a sack.
Swenson accounted for an interception and fumble recovery. Bushman and Silk each had forced fumbles and an interception.
The Wolves will host Roundup at 7 p.m. on Friday, Sept. 9.