Posted on
Vera Paulson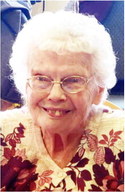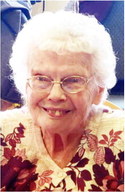 Vera Paulson, age 97, passed away on Aug. 23, 2022, at the Eastern Montana Veteran's Home in Glendive, Mont.
Vera, the fourth of six children born to Andrew and Johanna Christopherson, was born on May 7, 1925, in Poplar, Mont. She grew up on the family farm and attended Longview School through the eighth grade.
She continued staying on the farm until her marriage to John Paulson on Dec. 11, 1960. Following their marriage, they made their home in Wolf Point, Mont. John worked for Roosevelt County Road Department and Vera worked at the Sherman Hotel restaurant as a waitress. John passed away in 1980 from cancer. Vera continued waitressing until retiring at the age of 70.
Vera's passion were her beautiful flowers in her yard. She welcomed friends, neighbors and family for a treat of ice cream or baked goodies. She enjoyed her many visits from nieces, nephews and all little ones as much as we all enjoyed her.
Vera was preceded in death by her parents; husband, John; siblings, Olive Murphy (Vance), Irene Vraa (Orrie), Paul Christopherson, Elsie Tolan (Victor) and Russell Christopherson (Ann); nephews, Dennis Tolan and Bruce Christopherson; and niece, Karen Lavoy.
She is survived by nieces,
Darlene Ellertson (Rich) of Great Falls, Mont., Lenora Stephenson (Larry) of Circle, Mont., and Elaine Moen (Phil) of Havre, Mont.; nephews, Duane Vraa (Ann) of Shelby, Mont., and Darryl Tolan (Noreen) of Glendive, Mont.; niece-in-law, Peggy Tolan of Omaha, Neb.; and numerous extended families.
A graveside service will be held on Friday, Sept. 9, 2022, at 11 a.m. at the Greenwood Cemetery in Wolf Point. Condolences may be sent to the family by visiting www. stevensonandsons.com.
Should friends desire, memorials may be made to a charity of one's choice.
A special thank you to the Eastern Montana Veterans Home, hospice program, medical facilities and Stevenson & Sons Funeral Home for Vera's wonderful care.
(Paid Obituary)