Posted on
Fort Kipp Sees Good Attendance, Weather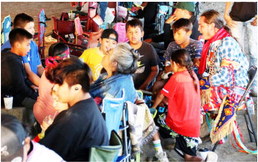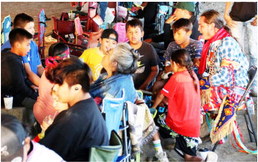 The Fort Kipp Celebration was held Aug. 26-28. The pow-wow grounds are located between Culbertson and Brockton, south of U.S. Highway 2 near the Missouri River. Grand entries were held Friday evening and twice daily Saturday and Sunday.
Specials were hosted in memory and/or honor of Noble Drags Wolf, Cody Weeks-Combs, Bradley YellowHammer, Phyllis Grey Bear, Sean Bighorn, Wesley Bighorn and Lawrence Fast Horse III, as well as for royalty.
Traveling princess was Toni Brown. Keira Iris Fast Horse was princess. Princess attendant was Emma Brown. Junior princess was Aiyanna Eder. Junior princess attendant was Antoinette Wise Spirit. Mini princess was Winter Brugh and mini princess attendant was Harper Young.
Temps were in the 90s for the first two days of the celebration, with Sunday's temps dropping considerably into the 80s. By evening grand entry, attendees were talking about the relentless wind.
Representative Frank Smith said attendance was good during his visits, with lots of dancers and spectators. Food trucks were in place and cooking. Fort Peck Tribes security officers were on hand. Patrick Ricker was the announcer and Dominique Buckles was arena director. Secretary for the celebration was Luane Pearl Four Bear-Brown. Mike Olson was advisor.
Fort Kipp committee members include Derrick Long Hair, Marietta Four Bear, Hadyn Longhair, Xavier Rattling Thunder, Ethan Longtree and Daniel Myron Dean Menz.

ParkerGrass Dancer Timothy Parker (right) of Rocky Boy prepares for evening grand entry at Fort Kipp pow-wow Aug. 28.(Photo by James Walling)


Spotted BirdLarissa Spotted Bird dances with son Keaton Long Tree during Fort Kipp grand entry Sunday, Aug. 28. (Photo by James Walling)