Posted on
Cowboys Drop Close Game In Chinook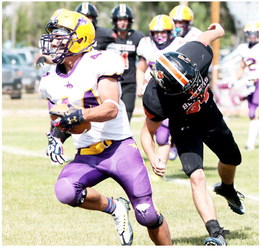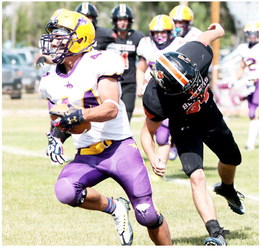 The Culbertson Cowboys put up a good battle but lost at Chinook by a 38-32 score on Saturday, Aug. 27.
Chinook scored two early touchdowns off of fumbles by the Cowboys. Culbertson trailed by two touchdowns at the half.
The Cowboys came as close as five points during the second half. A potential game-tying touchdown in the final two minutes was called back due to a holding penalty.
"As a whole, we tighten down at the end of the game and gave ourselves an opportunity," Culbertson Coach Brian Manning said.
Quarterback Bridger Salvevold ran for two touchdowns and passed for two other touchdowns to lead the Cowboys.
Kobe Nickoloff finished with two touchdowns in the game.
Manning said Justice Bengochea had a solid game defensively. Nickoloff led the team in tackles.
The Cowboys start conference play in Poplar on Friday,
Sept. 2.