Posted on
LK Realty Celebrates Five Years In Business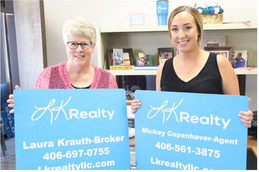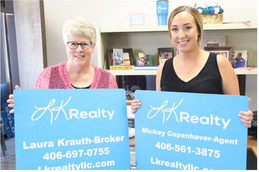 Laura Krauth, owner of LK Realty, says she has a lot to be thankful for regarding the business' successful five-year history. The community has been very supportive, and she's grateful of the help received from others.
"You definitely don't open a business by yourself," Krauth said.
Krauth and agent Mickey Copenhaver are excited about their time serving the Wolf Point area.
Krauth explained that her going into the realty business was a "fluke of luck." After she retired from the Wolf Point School District in 2009, she tried other jobs including being a pharmacy technician, librarian and school cook. Realtor Shane Gibson got her interested and trained her for the career.
A stroke of luck came when a flight to Billings was canceled. Krauth then shared a ride with appraiser Bethany Toews.
"I truly believe God puts people in your way," Krauth said. "Bethany really encouraged me to open an office."
A year ago, Copenhaver started working as an agent to provide a lift in the office. Her decision came after buying a house from Krauth.
"It was such a good experience. I knew I wanted to work with Laura for sure," Copenhaver said.
Krauth explained, "We really enjoy what we're doing. Mickey has the spirit that I needed. We just have a blast. Mickey is young, smart, fun and enthusiastic. All the things I would want in an agent."
They noted that taking care of their customers is the most important service that they perform.
"There's a lot of hand holding," Krauth said. "That's what we do best, we stay in touch. We're very relationship based. They trust us."
They enjoy dealing with first-time homebuyers and working with several lenders in order to provide successful mortgage arrangements.
They are very community oriented as LK Realty donates to many organizations including post prom, NEMHS, golf tournaments, the baseball program, Outback barrel race in Circle and the local fireworks display.
"We love what we do, and who we do it with," Krauth explained. "My husband, Wade, has been very supportive. Bethany has been amazingly supportive. I just feel God put her in my path. I'm so grateful to help sell homes."