Posted on
Frazer Cross Country Team Features 11 Runners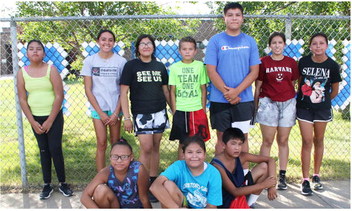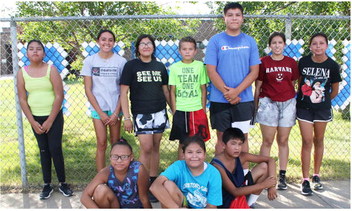 Frazer Bearcubs' cross country coach Cody Larson is pleased with the turnout of four boys and seven girls for the sport this season.
"We're still getting some junior high kids back, too," Larson said after last week's practice.
Among the returning athletes for the girls are Alyssa Toce Bount, Shakira Beston, Angel Nelligan and Kalianna Toce Blount.
He noted the girls performed well at the Class C state meet last year.
"Alyssa really came on last year," Larson said. "We will be able to compete. That's what we are looking for."
Ty Fourstar is the top runner back on the boys' side.
Other solid runners are expected to include Joseph Beston and Cassius Smoker.
"We will be OK," Larson said. Larson is doing double duty and is also coaching the volleyball squad this fall.
"It's good. It gives them all the same message," he said.
The Bearcubs will open their cross country season in Wolf Point on Friday, Aug. 26.
Frazer Cross County
Aug. 26: at Wolf Point Sept. 3: at Poplar Sept. 9: at Scobey Sept. 17: at Glasgow Sept. 22: Frazer Sept. 24: at Culbertson Oct. 8: at Malta Oct. 14: at Harlem Oct. 22: State (Missoula)