Posted on
Elks Donate To County Library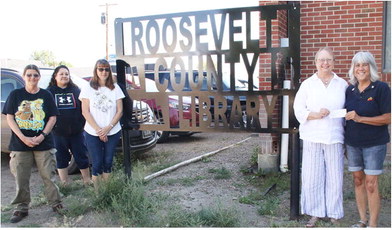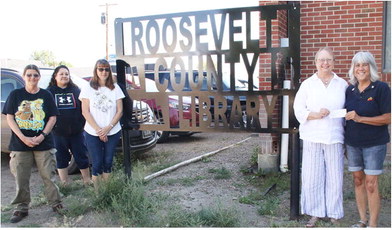 Wolf Point Elks Lodge #1764 has assisted the Roosevelt County Library with a $2,000 Beacon grant.
Julie D'Ambrosio, secretary of the Elks lodge, noted that it was the second Beacon grant that the Elks has presented this summer. The first one was given to the Wolf Point Pound Puppies.
Through Beacon Grants, the Elks National Foundation gives lodges the opportunity to develop an ongoing, charitable, Elks-driven community project.
Last year, the Wolf Point Elks lodge presented Beacon grants to both the Northeast Montana Health Services and the Montana Public Health and Human Services office in Wolf Point.
Roosevelt County Library's head librarian Janet Livingston said the plan is to use the funds for family programming in areas such as games, arts and crafts and activities.
"I want to focus on families," Livingston said.
She is hoping to offer a large UNO card party for families on Tuesdays.
Library hours include 9 a.m. to 5 p.m. on Mondays, and Wednesdays and Fridays; 9 a.m. to 7 p.m. on Tuesdays and Thursdays; and 9 a.m. to 3 p.m. on Saturdays.