Posted on
Culbertson Hosts Tournament To Begin Volleyball Season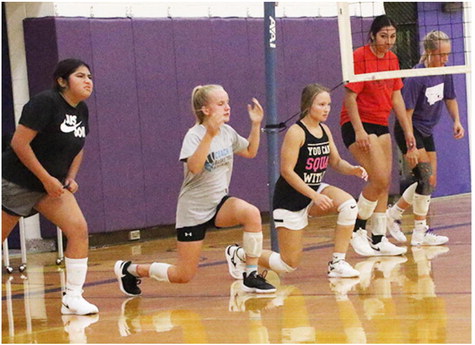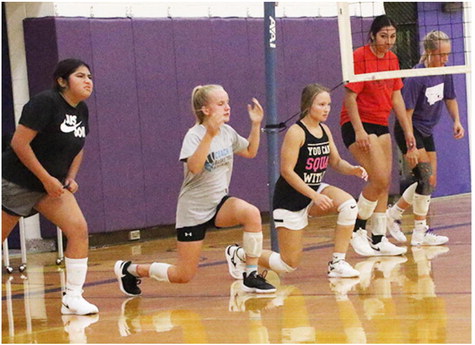 Volleyball season will begin with the eight-team Culbertson Invitational on Saturday, Aug. 27. Action starts at 8 a.m.
Pool A for the tournament will include Culbertson, Scobey, Lustre Christian and Savage. Pool B teams are Bainville, Froid/Lake, Brockton and Nashua.
After pool play, a single-elimination tournament will follow.
The Culbertson Cowgirls qualified for the divisional volleyball tournament for the first time in 10 years last season and aim to keep their winning ways going this fall.
The Cowgirls return five starters including seniors Makena Hauge, Perla Burciaga, Koree Marchwick and Alicyn Ator along with junior Destiny Thompson.
Hauge earned All-State honors and Marchwick was an All-Conference selection last season.
Thompson has been selected to play for an U.S. allstar team in the Dominican Republic next summer.
Marchwick injured her knee at last season's divisional tournament, but appears ready for a standout senior campaign.
"She was cleared this summer and has been rehabbing well," Culbertson coach Tiffany Nielsen said.
Jazzmin Fugere, a sophomore, also played a good amount of varsity time last season.
Nielsen, who is assisted by Tessa Rumsey, feels this year's team is deeper than in past seasons. The program features 10 freshmen.
"It's really exciting. They are really committed," Nielsen said of the team. "They were all at the open gyms this summer."
The coach added, "They have really put in the time. They are always hungry to be in the gym."
She feels the experience of competing at last year's divisional tournament will benefit the program.
"It gives them experience to know the feel of it," Nielsen said. "It gives them motivation to do more."
The coach feels the top teams in the league will include Plentywood, Savage, North Country and Froid/ Lake.
Culbertson will host the Eastern C divisional tournament on Nov. 3-5.
Culbertson Volleyball Schedule
Aug. 27: Culbertson Invitational Sept. 2: Frazer Sept. 3: at Scobey Sept. 8: Nashua Sept. 9: at Brockton Sept. 10: at Scobey Invitational Sept. 16: Bainville Sept. 22: MonDak Sept. 24: at Savage Sept. 29: at Lustre Oct. 1: at Richey/Lambert tournament Oct. 4: at Fairview Oct. 6: at Froid/Lake Oct. 13: at Plentywood Oct. 15: North Country Oct. 17: at Bainville Oct. 27-29: District (Plentywood) Nov. 3-5: Divisional (Culbertson) Nov. 10-12: State (Bozeman)

HaugeMakena Hauge works on her hitting during practice in Culbertson. (Photo by Bill Vander Weele)


BurciagaPerla Burciaga controls the ball during pre-season practice.(Photo by Bill Vander Weele)