Posted on
Gwen Frerich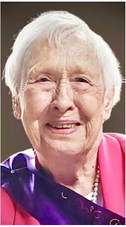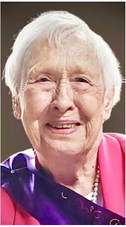 Gwen Frerich was born in Culbertson, Mont., on March 30, 1932, to 'Nute' and Dora Anklam. She passed away on Aug. 10, 2022, at the age of 90. She was a resident at Morningstar in Billings.
Gwen was the oldest of three children and spent her childhood in Culbertson, except for a brief period on the Washington coast, while her dad served in the Army during World War II.
Gwen married Dick Frerich on Nov. 7, 1949. They lived in Poplar and raised three girls, along with many bushels of wheat. After a lifetime of hard work and happy memories, Dick and Gwen retired to Billings, determined to never leave Montana.
Gwen was a devoted wife, mother and homemaker. She described herself as 'a good cook,' and could make the perfect pie crust. Gwen loved bowling and was a lefty who enjoyed both league and tournament play. One of her favorite bowling memories was volunteering with the