Posted on
Bernie Finnicum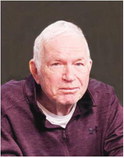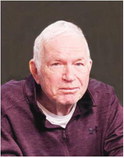 Bernie W. "Butch" Finnicum, 77, of Culbertson died Aug. 3, 2022.
He was born Jan. 14, 1945, to Bernie and Montana Finnicum. Throughout his years growing up in Culbertson, he kept his parents on their toes; however, he always looked out for his younger siblings.
After graduating from Culbertson High School, he met Christina Vallejo. They married July 4, 1969. After a short stint in the Army, he and Chris returned to Culbertson to work in the family businesses, where he remained until he retired. They raised two daughters, Monika and KayCee.
He loved cars … admiring them, driving them (preferably very fast), buying them and selling them. He also loved playing cards with the guys, playing dominos with his family and eating all the healthy foods like cheeseburgers, ice cream, popcorn and candy.
However, his greatest love was his family. Everything he did was wrapped up in family, whether it be his job or his hobbies. He had a great love of the Lord. Nothing made him happier than spending time with his grandchildren. He would often initiate and partake in many a trip to the pumpkin patch, go carts, water park or wherever a fun time could be had with his grandkids. He spent lots of time watching all the sports his grandkids played. He was incredibly proud of his daughters and his grandchildren.
He is survived by his wife, Chris; daughters, Monika Feldmann and KayCee Murray; six grandchildren; brothers, Paul Finnicum and Bill Finnicum; and sisters, Diane Hampton, LaVonne Scotson, Nancy Hansen, Susan Finnicum and Bonnie Hellweg.
Burial was at the Hillside Cemetery in Culbertson. A celebration of life is being planned for a later date.