Posted on
Robert and Helen Heikens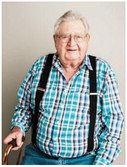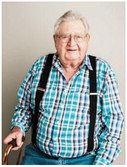 Robert Harold "Bob" Heikens, 92, died July 23, 2022, in an automobile accident outside of the town of Nashua. His wife, Helen Marie Lauckner Heikens, also died in the same incident.
He was born Sept. 19, 1929, in Glasgow to Mike and Sylvia Heikens. Helen was born May 17, 1935, in Grand Rapids, Minn., to William and Hilda Lauckner.
Both Helen and Bob attended Nashua Public Schools, where he graduated in 1947 and she in 1953.
After high school, Bob spent time traveling and working in Iowa and California until he returned to full-time farming in the Center community southwest of Nashua.
Helen grew up cooking for threshing crews and worked as a secretary in Glasgow after graduation.
They met at a Webb Pierce concert and, several dances and dates later, they were married on Nov. 20, 1954.
In addition to farming with his brothers Al and Don, Bob was a board member for both the irrigation district and Nemont Telephone Company for 40 years.
Helen was a quintessential farm wife who planted huge gardens, raised chickens, provided three meals a day and was the cake decorating lady for over 20 years.

the home they shared for the next 20 years. In retirement, they were active members of the Nashua Senior Center and Grace LutheranChurch. He spent hours in his woodshop, crafting seasonal decorations that became a fixture on the main street of town. Helen continued her sewing and quilting projects and both were competitive pinochle players. One of their greatest joys was working together in the garden and they kept busy "irrigating" and tending the vegetables and flowers. In March 2022, they moved into an apartment at Prairie Ridge Assisted Living in Glasgow. Their new community welcomed them with good meals, friends and lots of activities. They mentioned numerous times they were so lucky to have each other as they embraced this new phase of their lives. They cherished visits from family both in person and via phone calls and video chats. Helen and Bob were a testament to a successful marriage in their dependence on each other but yet there was an independent streak in each of them. Preceding them in death was their daughter, Ann Willis. They are survived by their children, Gayle Breding of Billings, Michael Heikens of Sorrento, Fla., and Betty Jo Nelson Anaconda; seven grandchildren; one great-grandchild. Helen is survived by her brothers, William Lauckner and Andy Lauckner. A joint memorial service will be held Saturday, Aug. 6, at Our Redeemer Church in Nashua at 10 a.m. Inurnment will be at 11 a.m. at the Nashua Cemetery.