Posted on
Healing Week Teaches Students Self-Empowerment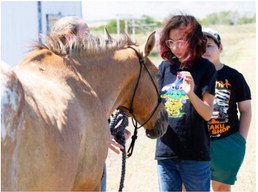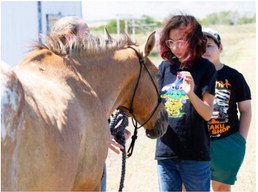 The fourth annual Frazer School Healing Week took place in Frazer July 25-28. The event had four days of activities designed to teach youth a sense of self and self-empowerment. Numerous Brockton and Frazer students attended this year.
Participants made emotion trees which are meant to help children develop their emotional intelligence. By learning to display their emotions, students learned what triggers them and how to communicate their feelings to others. Emotion trees also help children better understand how to acknowledge the emotions of others and how the self affects the community.
Students also learned the four aspects of the medicine wheel: mental health, spiritual health, emotional health, and physical health and the importance of each. Roger White Jr. taught students about traditional native medicines, and they made bareroot tea from plants found in the Missoula area.
Francis Cook, a nurse at NEMHS and a Navy Veteran, brought her 10-year-old gelding, "Mack." Youth were able to pet him and take bareback rides around the football field. Cook taught the students that horses have a heart the size of a football which enables them to give off a great deal more electro-magnetic energy than people.
According to Cook, "That electro-magnetic field makes people feel calm around horses. Horses allow us to stay in the moment."
She is currently training to do equine therapy. When certified, she hopes to work with Spotted Bull Recovery Resource Center using equine therapy to help people with addiction problems.
Perry Lilley held clinics for the children.
"I talk to the kids and let them know they are important, let them know they are somebody and tell them they can and will accomplish their dreams," Lilley stated.
He spoke to the youth about the obstacles Native children may face. He emphasized the importance of communication and five tenets to live by: compassion, love, respect, honor and dignity.
Jonny Bearcub Stiffarm spoke to the youth about relationships and the responsibility and duty each has to care for their families and themselves.
Stiffarm, a semi-retired executive with Native Energy, spends the bulk of her time volunteering.
She explained to them, "If you are lucky and healthy you will become an elder. An elder is not an old person. An elder is someone who lives long enough to gain experience and share that experience with others."
She encouraged students to have fun and define success for themselves rather than by the opinions of others.
Healing Week was made possible with sponsorship from National Native Children's Trauma Center, HPDP, Frazer Schools, Fort Peck Tribes and numerous volunteers.