Posted on
Experts Provide Information During Human Trafficking Conference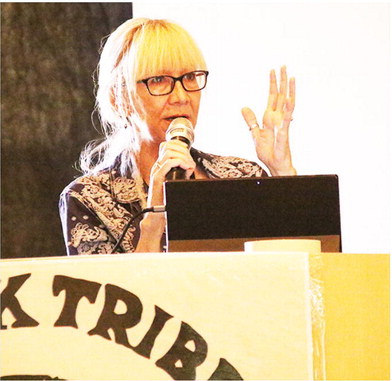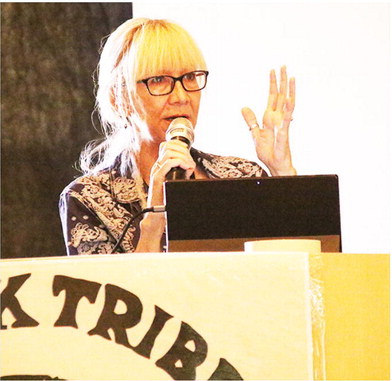 By Bill Vander Weele
The crisis of human trafficking was addressed during a conference held in Poplar on Wednesday, July 20. The Fort Peck Tribal Court Human Trafficking Conference attracted speakers from across the state and also included closed sessions for law enforcement personnel.
Tommy Christian, facilitator during the conference, noted the event's goals.
"We need to develop the importance of developing our community," Christian said. "We know human trafficking is a great concern. I think it's being accepted as the norm. We have to change that."
Christian added, "Although it addresses reservation's needs, it concerns the state of Montana as well."
Rebekah Squeque provided a strong message from a victim's experience and perspective. She noted the importance of the public gaining information.
"Having us to educate everybody is beneficial," she said. "It's really all about education."
When asked about providing advice to families, she said, "Don't lose hope, they are out there. I always say keep hope alive."
Penny Ronning is co-founder and co-chair of the Yellowstone County Area Home Trafficking Task Force. Her presentation featured detailed information about the crimes.
Her information included that 40,900,000 people were trafficked globally in 2018. There were 79,000 minors that were trafficked in Texas. There were 1,685 cases persecuted in the United States during that time.
"We don't have enough resources to arrest ourselves out of this crime," Ronning said.
She stressed that the crime can hit families of any color or any income.
"There is no perfect victim," Ronning said. "Victims of human trafficking come from all sectors of life."
Human trafficking is a $150 billion worldwide business. The FBI reports that a 14-year-old girl can be sold for $900 an hour in Billings.
Human trafficking is the fastest growing criminal history in the world, second only to the drug trade. "Some say that human trafficking is surpassing drugs," Ronning added. "A human being can be sold repeatedly. A drug can only be sold once."
She explained that Montana is vulnerable to human trafficking because of its size and lack of law enforcement designated to the crime. "We're a state that lacks resources," she noted.
Human trafficking myths include that it is motivated by bias and hate, foreigners must be involved, it is about movement and borders, all human trafficking is sex trafficking, all victims are minors, victims self-identify and there must be chains, beatings or physical restraint.
Types of sex trafficking are prostitution, pornography, phone sex lines, stripping, mail order brides and truck stops.
Labor trafficking can include domestic servitude, service industry such as restaurants and hotels, hair/nail salons, construction, factories, agriculture, janitorial, door-to-door sales and panhandling.
Ronning stressed that the number one way that victims are targeted are being sold by a relative, boyfriend or someone else they trust. Other ways that victims are targeted include at malls, bus/train stations, parks, homeless shelters, schools, by a kindly woman or friend, online chat, social media and false advertisements for employment.
Speakers at the program also included representatives from the Federal Bureau of Investigation, Department of Justice, Bureau of Indian Affairs and U.S. Attorney's Office.

PresentationHuman trafficking conference organizers Judge Stacie Fourstar (left) and Stephanie Knowlton (right) present a star quilt to Rebekah Squeque in appreciation of her courage.(Photo by Bill Vander Weele)