Posted on
Area Officials, BNSF Discuss Railroad Safety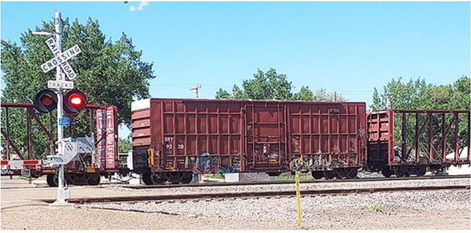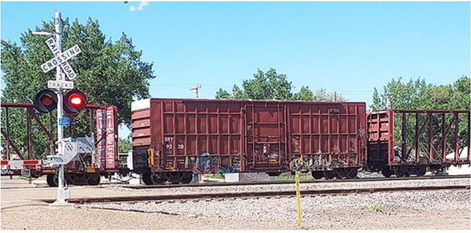 With the goal of improving safety on area's railroads, officials from BNSF Railway, the Fort Peck Tribes and the City of Wolf Point took part in a video conference meeting on Thursday, July 21.
Since last August, there have been six deaths on railroads in Roosevelt County. Tribal executive board member Patt Iron Cloud Runs Through stressed how easy it is to walk on the railroads in Wolf Point because of a lack of fencing. She mentioned how high school students walk down Sixth Street, over the tracks in order to get something to eat at Agland.
"These are our children. These are my grandchildren who have to walk over them," she said.
She feels that a 10-foot high fence and walk ways will help decrease tragedies. She feels BNSF should pay for the project.
"As elected officials, it's one of our biggest concerns," she added.
Wolf Point Mayor Chris Dschaak noted the problem is not only a matter of adding a fence but also to educate people not to walk on the tracks. He mentioned how trains can't stop or change directions quickly.
"It's a human issue as much as anything," Dschaak said. "We can build overpasses or fences, but it's still a human issue."
The mayor said people need to be informed that crossing the tracks is dangerous and can potentially lead to death.
Montana Operation Lifesaver has continued its efforts to educate the public regarding railroad safety by running ads in the newspaper. Tribal executive board member Bryce Kirk is a new board member for that organization.
An official for BNSF said he believes if a fence is added that it needs to be part of a beautification project that people take pride in. That would hopefully cut down on possible vandalism to the fence.
Cat Dobbs, senior project manager for HDR in Portland, Ore., explained that millions of dollars are available through the federal Railroad Crossing Elimination Program. The grant program has specific money set aside for rural and tribal projects. Being on the Amtrak route could also help the area be a grant recipient.
The federal government will pay for no more than 80 percent of the project. The other 20 percent needs to be local matching funds.
The BNSF, however, can't apply for the grant. Eligible applicants could be the City of Wolf Point or the Fort Peck Tribes.
In addition, there could be $1.5 million available in grants for education and safety programs regarding railroad trespassing.
Fort Peck Tribes officials have also been researching possible safety grants for the Poplar and Wolf Point areas. Possible projects include a pedestrian overpass.
Matthew Jones, executive director of public affairs for BNSF, feels the next steps include looking at details for a grant application and consider possible opportunities.
Officials agreed to meet again within the next couple of weeks.